Bangladesh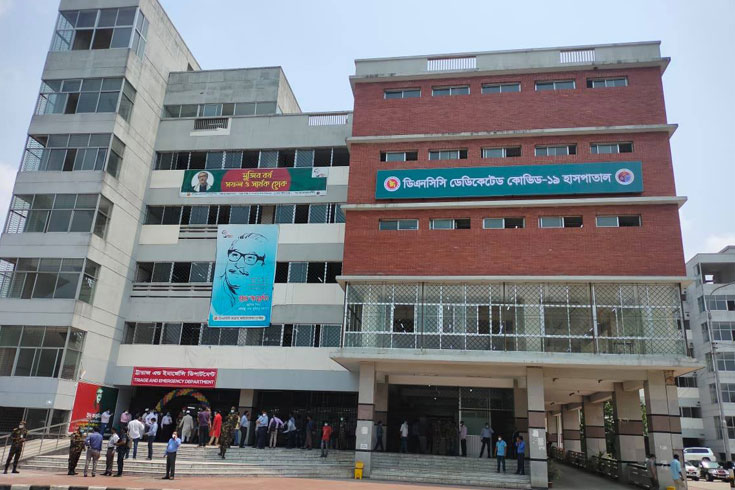 Bangladesh: 1000 bed hospital in Mahakhali
Dhaka, April 18, 2021: The service activities of 'DNCC Dedicated Covid-19 Hospital' have been inaugurated in Mohakhali of the capital to treat patients suffering from corona.
Health Minister Zahid Malek and Dhaka North City Corporation Mayor inaugurated on Sunday (April 17) at noon. Atiqul Islam.
In his inaugural address, Zahid Malek said that the rate of corona infection in the country has increased several times in the last one and a half months. The death rate is increasing with him. Therefore, the service activities of this hospital have been prepared in just 20 days on the instructions of Prime Minister Sheikh Hasina.
"Our neighboring country India is struggling to provide corona treatment," he said. Many developed countries are conducting medical services under the open sky. In that place we have arranged for the treatment of Corona patients in an improved environment.
Last year, when the corona infection rate in the country increased, isolation centers were set up at Bashundhara and Mohakhali DNCC markets in the capital. But due to lack of patients, the activities of Bashundhara Isolation Center were suspended.
Instead of isolation in the DNCC market, corona testing has been arranged for expatriates. Now a hospital with 1000 beds has been set up in this isolation center. Of these, about five hundred ICU beds have been made. However, there are 112 full ICUs and 100 HDUs.
Stating that the number of ICUs is less than the population of Dhaka city, the Health Minister said that now the issue of ICU crisis has come to the notice of everyone. In fact, the number of ICUs in public and private hospitals in Dhaka is less. However, corona patients need more oxygen than ICU.
He said oxygen was provided to every bed in the hospital. It contains central oxygen for two-thirds. There are also five beds for dialysis. Besides, 10 VIP cabins and 6 AC cabins have been set up.
Health Minister Zahid Malek has said that most of the corona infections in the country are among the youth.
He said the rate of corona infection was higher among the youth but the death rate was lower. Instead, they are attacking everyone in the family. Their elderly parents are at risk of death. So stop wandering outside unnecessarily.
Atiqul Islam, mayor of Dhaka North City Corporation (DNCC), said at the inauguration ceremony that the DNCC market was constructed and shops were allotted. But the market did not open for various reasons. Later, subject to discussions with the Prime Minister, I proposed to set up a corona hospital in the market. The Prime Minister accepted the proposal and directed the Ministry of Health to take necessary steps.