Bangladesh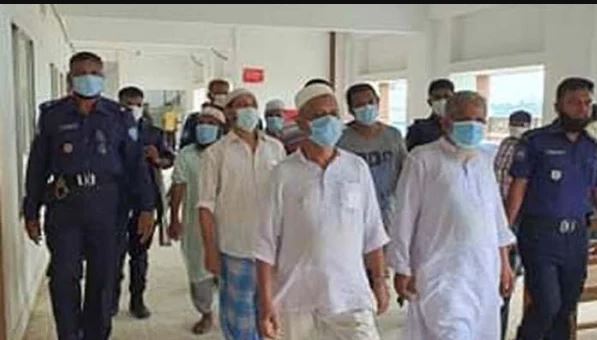 Bangladesh: 21 Jamaat leaders sent to prison
ঢাকা, ১১ অক্টোবর ২০২০ : হরতালে পুলিশের খাবারের গাড়িতে আগুন দেওয়ার মামলায় জামায়াতের ব্রাহ্মণবাড়িয়া শাখার সাবেক ও বর্তমান আমিরসহ জামায়াত-শিবিরের ২১ জনকে দুই বছরের কারাদণ্ড দিয়েছে আদালত।
Brahmanbaria Chief Judicial Magistrate Masud Parvez announced the verdict on Sunday.
The court also fined each two thousand rupees. If they do not pay the fine, they will have to stay in jail for one more month. Seven of the 21 accused were in court when the verdict was announced. They are Shahidul Islam, Sanaullah, Kazi Abu Zaher, Emranur Rahman, Mohsin Mia, Farhad Uddin and Azizul Hakim Tanvin.
The 14 fugitives are: Nazrul Islam Khadem, the main accused in the case of former Amir of Jamaat-e-Islami, Syed Golam Sarwar, Kazi Yaqub Ali, Helal Uddin Bhuiyan, Golam Farooq, Rustam Ali, Nipu, former president of Chhatrashibir district Rasedul Karim Rana, Nurullah, Ashraful Islam. Babu, Sirajul Islam Humayun, Zahidul Islam, Jahangir Alam Iqbal and Billal Ahmed.
All the convicts and fugitives are leaders and activists of Jamaat-Shibir in Brahmanbaria.
State lawyer Nazmul Hossain Tara, citing case documents, said a police food truck was set on fire on the Comilla-Sylhet highway at Pirbari during the December 4, 2012 strike. In this incident, the police filed a case accusing 22 people and 22 others. In August of the following year, the then investigating officer of the case, SI Atiqur Rahman of the Brahmanbaria police station, filed a chargesheet against 21 people. He is currently the OC of Vijayanagar police station.
Lawyer Nazmul said the court had convicted all the accused after a long judicial process.