Bangladesh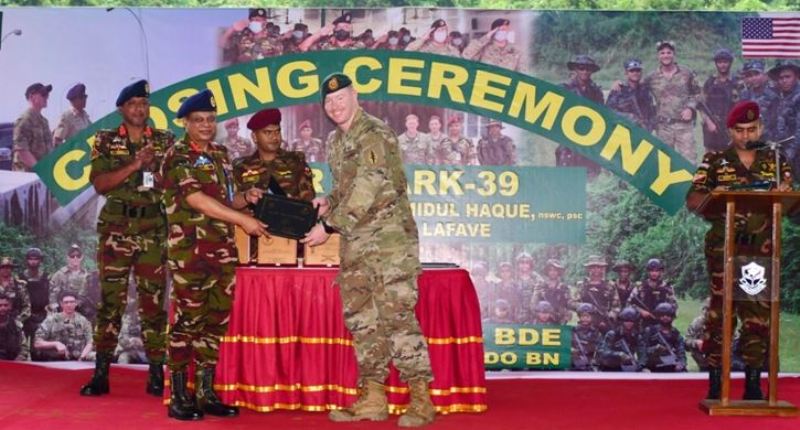 Photo: Collected
Bangladesh Army completes joint training with India-US
Own Correspondent, Dhaka, June 17: The joint military training of India and the United States with Bangladesh Army has been concluded.
The training workshop with India was held at Jessore Cantonment on Thursday and with the United States at Jalalabad Cantonment in Sylhet. This information has been shared in the press release of the Inter-Services Public Relations (ISPR).
The name of the joint training with the participation of Indian Army was 'Exercise Harmony-10'. Chief of General Staff (CGS) of Bangladesh Army Lieutenant General Ataul Hakim Sarwar Hasan was the chief guest at the closing ceremony. Major General Praveen Charbra, General Officer Commanding, 20th Mountain Division of Indian Army was the special guest on the occasion.
Also present on the occasion was Maj. Gen. Md. Nurul Anwar, General Officer Commanding, 55th Infantry Division. Also present were senior officials from India and Bangladesh, JCOs and other ranks of Army personnel. Through the training, members of the Bangladesh and Indian armies practiced joint operations on counter-terrorism operations, humanitarian assistance, disaster management and protection of civilians at the United Nations.
The exercise, which started on June 5, was attended by more than 150 officers, JCOs and other military personnel from both the countries.
On the other hand, the name of the joint training with the participation of the US Army was 'Exercise Tiger Shark-39'. General Officer Commanding and Area Commander Major General Hamidul Haque was present as the Chief Guest at the closing ceremony.
Also present on the occasion was Helen Grace LaFeb, Deputy Chief of Mission at the US Embassy. From 25 May to 18 June 2022, joint training was conducted by members of the Bangladesh Army's Para Commando Force, the Bangladesh Navy's Jhadauj and the UK Special Forces.
The main objectives of the training were to exchange detailed knowledge about anti-terrorism, close quarter battle and counter-terrorism, firing experience and specialized knowledge. Thirty-three para commandos of the Bangladesh Army, 10 paramilitary members of the Bangladesh Navy and 12 members of the United States Special Forces participated in the exercise.
The Chief of Army Staff General SM Shafiuddin Ahmed thanked the Chiefs of Army Staff of India and the United States of America for the successful completion of the two exercises and for the participation of the concerned Army members.