Bangladesh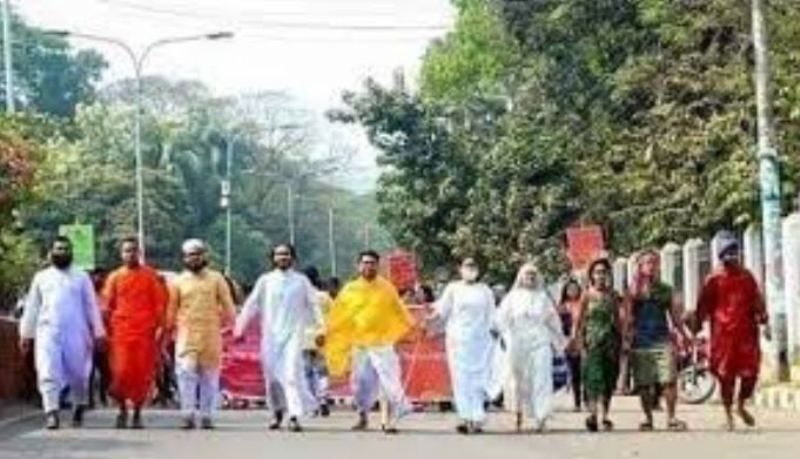 Collected
Bangladesh belongs to all religions, says Home Minister
Dhaka, October 12: Home Minister Asaduzzaman Khan Kamal has said the country belongs to all religions.
"The country is moving forward at a relentless and irresistible pace. The main reason for this is that we are all people of all religions in the country. We are all sharing in the joys and sorrows of everyone," Kamal said at the inauguration ceremony of Durga Puja organized by Gulshan-Banani Public Puja Foundation at Banani ground in the capital on Monday night (October 11).
He said, "The dream of the greatest Bengali of all time [Bangabandhu] was to build a non-communal Bangladesh. The fruit of that consciousness is that whatever religion we follow, we can observe everything of that religion beautifully. Not only Hinduism, Islam, Christianity, Buddhism, whatever religion we believe in, we are all in Bangladesh. We are taking Bangladesh forward, that is the main thing."
The Home Minister said, "Last time there were about 30,000 mandapas in Bangladesh. This year, the number of mandapas has crossed the 30,500 mark. It means the greatest Bengali of all time, who dreamed of a non-communal Bangladesh, a country where Hindus, Muslims, Buddhists and Christians all come together, is coming true. We as citizens of this country will enjoy all the benefits together. Although he is not with us today, the one carrying his blood [Prime Minister Hasina] is carrying out the work."
He said, "The puja is being held in this place in Banani for 14 years without any hindrance. The Prime Minister said religion belongs to individual, festivals belong to everyone. Everyone will follow their religion but we will all come together during the festivals. This is not the culture of today, if you look back a thousand years, you will see - this is how we have lived. We shared laddu of puja mandapa and ate it. Everyone comes to our house during Eid and we share the joy together. The same picture can be seen in the festivals of Buddhism and Christianity."
The Gulshan-Banani Public Worship Foundation has been organizing Durga Puja at this ground in Banani for the last 14 years. Three entry gates have been placed in the field. Free masks are being distributed by the foundation to all the visitors to this mandapa.
Dhaka North City Corporation (DNCC) Mayor Atiqul Islam, Deputy Minister for Education Mahibul Hasan Chowdhury Nowfel and others were also present at the inaugural function.