Bangladesh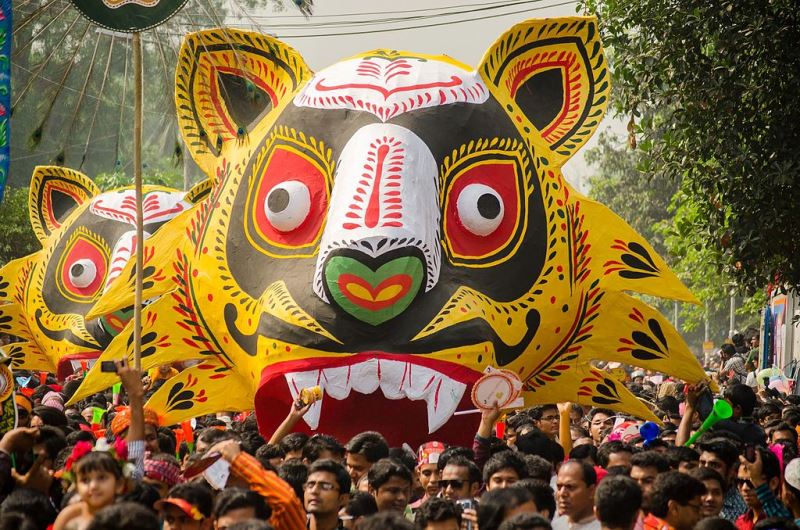 Abidhasan00/Wikipedia
Bangladesh celebrates Poila Baisakh, first day of Bengali New Year 1428 today
Dhaka, April 14: Today is the first Boishakh, the first day of Bengal 1428 and the traditional festival of Bengal, Chaitra Sankranti.
Holy Boishakh inspires us to build a liberal way of life by avoiding all narrowness and ugliness. It removes all the clutter and decay in our minds and inspires us to live in new ventures. We Bengalis, a proud nation in the heart of the world, this sense of nationalism and Bangaliana are revived in us on the occasion of the holy Boishakh.
On the other hand, Pohela Boishakh is a public folk festival of Bengalis. On this day, the new year is welcomed in a joyous atmosphere. New Year is a symbol of welfare and new life. Forgetting the guilt of past mistakes and failures, the New Year is celebrated with new wishes for happiness, peace and prosperity. On this day all government and non-government institutions are closed.
In fact, the New Year is a symbol of welfare and new life. Tomorrow morning, the Prothom-alo of dawn will brighten new dreams, hopes and possibilities. Naturally that dream, a new world free of coronavirus - a new country. The Bengalis of the world, including Bangladesh, will welcome the new year tomorrow without any formality with the expectation of sudden release from the Covid pandemic.
Today, on the first Baishakh, the country is talking about the mother in a colorful festival. The Prothom-alo of dawn is about painting new dreams, expectations and possibilities. There are various New Year events to be held across the capital. But the coronation period is going on all over the world including Bangladesh. The human world is now in an uncertain time. To prevent the spread of coronavirus for the second time in the country, the government has imposed a ban on all gatherings, including the holy month of Boishakh. A seven-day lockdown has been declared across the country from tomorrow, April 14. Earlier, the first lockdown was extended for two more days from April 5 to 11 and continued till dawn on April 14.
On the occasion of Bengali New Year, President Md. Abdul Hamid and Prime Minister Sheikh Hasina in separate messages extended heartfelt greetings and congratulations to the Bengalis including the countrymen.