Bangladesh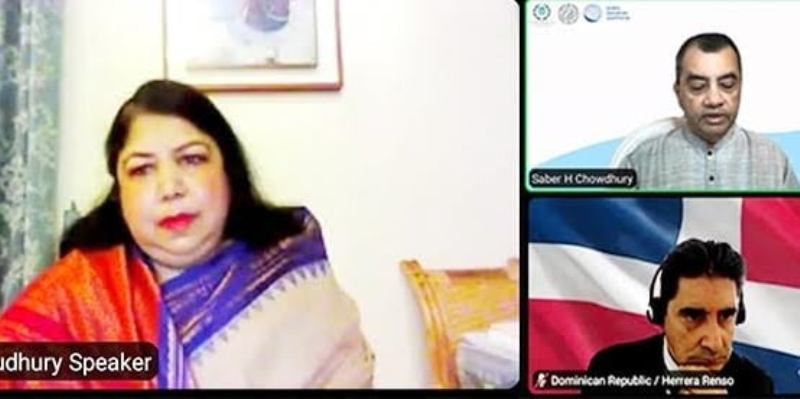 Collected
Bangladesh committed to implementing Paris Agreement to address climate change: Speaker
Dhaka, October 27: Speaker Dr. Shirin Sharmin Chowdhury said Bangladesh is committed to implementing all the activities of the Paris Agreement to address climate risks. She said that to keep global warming below 1.5 degrees Celsius, everyone needs to work together to reduce greenhouse gas emissions, achieve the goals of the Paris Agreement and finalize the Paris Rulebook.
She spoke at the inaugural function of the Climate Vulnerable Forum-Global Parliamentary Group, organized by the Climate Vulnerable Forum (CVF), the Inter-Parliamentary Union (IPU) and the Global Center on Adaptation (CCA).
The Speaker thanked all concerned for organizing such an event in the current context of global climate.
The Speaker said, "Prime Minister Sheikh Hasina leads the forum on climate risk countries where she represents the countries at risk of climate change. Therefore, we have called for subsidies on the COP-26 platform as an stable solution for climate-risk countries. Bangladesh has already adopted the 'Mujib Climate Prosperity Plan' to make the best use of renewable energy and use energy-friendly technologies. Combined global efforts to protect the planet and its proper preservation through tackling planetary emergencies are imperative."
Honorary IPU President Saber Hossain Chowdhury MP presided over the function while GCA President Ban Ki-moon, IPU Secretary General Martin Chungong, Maldives Speaker Mohamed Nasheed, Philippines Deputy Speaker Loren Legarda and UK House of Commons MP Darren Jones addressed the event. CVF Presidency of Bangladesh Special Envoy Abul Kalam Azad delivered the closing speech. Notable personalities from different countries were present on the occasion.