Bangladesh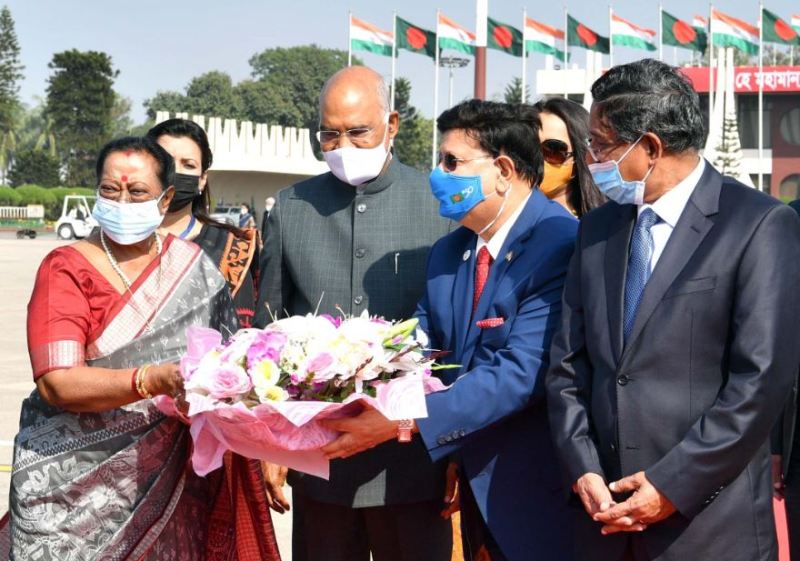 PID
Bangladesh has a special place in the hearts of Indians: President Kovind
Own representative, Dhaka, December 18: The President of India Ram Nath Kovind said it is a pleasure and honour to meet a close neighbour.
Mentioning that Bangladesh has a special place in the hearts of Indians, he said, "We have a unique close relationship based on the ancient ties of kinship, language and culture. Our relationship is being nurtured by the prudent leadership of the two countries."
He was speaking at a reception at the Ramna Kali Temple in the capital on Friday (December 17). Later in the afternoon, Kovind left the Shahjalal airport on a special Indian Airlines plane. Foreign Minister AK Abdul Momen bade farewell to the President of India.
At the reception, President Kovind said, "We are jointly celebrating the 50th anniversary of Bangladesh's independence and the establishment of our diplomatic relations. I pay tribute to the great sacrifices made by the people of Bangladesh in achieving independence."
Recalling the war of liberation in 1971, he said, "I was reminded of the words of the armed struggle of the freedom fighters against the Pakistani aggressors. I pay my respects to the women whose dignity was violated, the helpless civilians who were killed."
Praising the development of Bangladesh, the Indian President said that today Bangladesh has become a model of growth and development in the region. After the war of liberation, especially under the leadership of Prime Minister Sheikh Hasina, Bangladesh has undergone major socio-economic changes. India is committed in helping Bangladesh move towards a stronger economy and to contribute to greater prosperity.
Ram Nath Kovind said that maintaining the fundamental values of Bangladesh in a progressive, inclusive, democratic and harmonious society is one of the major contributions of Prime Minister Sheikh Hasina.
He also said that India would support a Bangladesh that upheld the values that emerged from the country's independence movement. "India values the goodwill and friendship of the people of Bangladesh," he added.