Bangladesh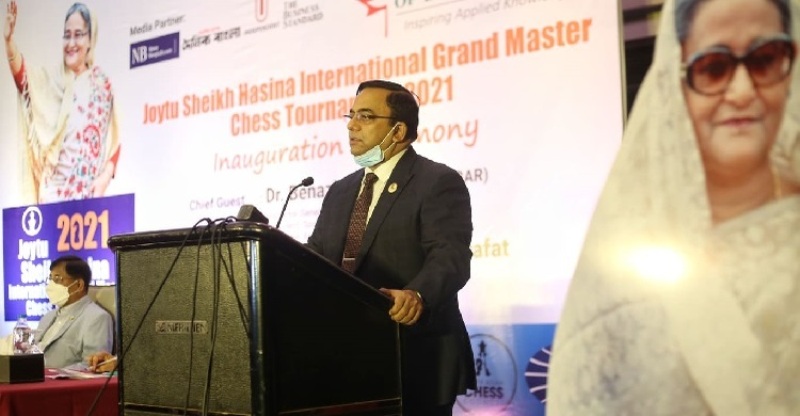 Collected
Bangladesh has surprised the world under the leadership of the Prime Minister Sheikh Hasina
Dhaka, September 21: Gone are those days when Bangladesh has to sustain criticism as a bottomless pit by economists. Currently, the country has managed to shock others by lending Sri Lanka USD 200 million. The development has come under the able leadership of Prime MInister Sheikh Hasina.
This was stated by Inspector General of Police (IGP) Dr Benazir Ahmed while addressing as the chief guest at the inaugural function of 'Joytu Sheikh Hasina International Grandmasters Chess Tournament' organized on the occasion of Prime Minister Sheikh Hasina's 75th birthday at Hotel La Meridian in the capital on Monday night.
Organized by the Bangladesh Chess Federation, the 9-day tournament is sponsored by the Canadian University of Bangladesh.
The IGP further said, "Even 15 years ago, Bangladesh used to look at the World Bank, ADB and IMF. Today, Bangladesh has extended a helping hand to neighboring countries and the African country of Sudan, for development. What could be a bigger achievement than this. We are grateful to the Prime Minister for this. When she came to power for a second term in 2009, 45 percent of Bangladesh's population lived below the poverty line. Now it is below 9 percent. Unfortunately for the pandemic, that didn't decrease any further.
The IGP said, "I wish the Prime Minister a happy birthday in advance. We are so proud and happy to be able to do this in the name of a majestic woman. Thanks to those who participated in the game. Even in the midst of this pandemic, they have come here and participated in the tournament."
Announcing that the Chess Federation is going to start chess at district and school level from this year, the IGP said, "We will organize another international event on the occasion of Sheikh Russel's birthday in October."
12 Grandmasters from 10 countries, including Bangladesh, 16 International Masters and three Women International Masters are participating in this tournament. A total cash prize of USD 15,000 will be awarded in the competition. The closing ceremony of the competition will be held at 7:30 pm on September 27 at Hotel Sheraton in Banani.