Bangladesh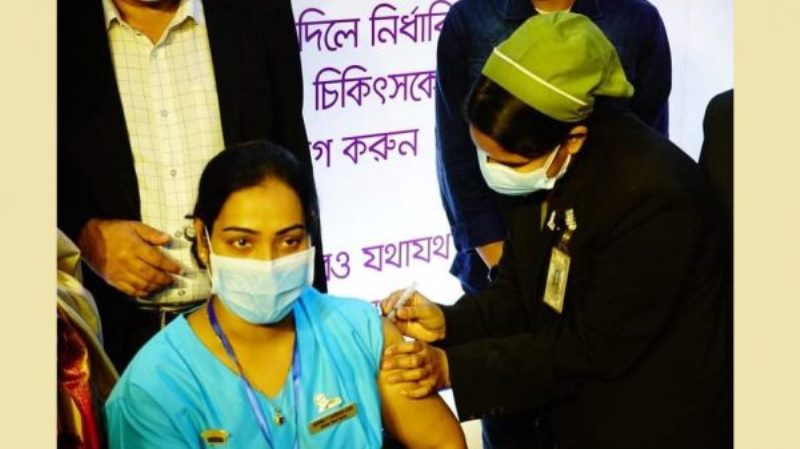 Collected
Bangladesh needs to bolster Covid-19 vaccination drive, trailing in South Asia: Reports
Dhaka, July 31: Bangladesh is lagging behind the rate at which 40 per cent of the country's population needs to administered both the doses of the Covid-19 vaccines this year. Bangladesh is also far behind in its plan of vaccinating 60 percent of the country's population by 2022, according to the report of a task force comprising the IMF, World Bank, World Health Organization and World Trade Organization to monitor immunization in the developing world.
According to the data published on the task force's website on Friday, the average daily vaccination rate in Bangladesh is 0.11 percent in a week. In other words, for every 100 people, 0.11 people are getting vaccinated. This rate is 0.31 percent in India, 0.19 percent in Pakistan, 0.33 percent in Nepal and 1.63 percent in Sri Lanka. These countries are ahead of Bangladesh in vaccination.
The task force said that if 40 per cent of the people have to be vaccinated by this year, Bangladesh will have to vaccinate at the rate of 0.49 percent per day. And if 60 percent are to be vaccinated by mid-2022, they will have to be vaccinated at the rate of 0.35 percent per day. In Bangladesh, a country of 165 million people, it will take 131.8 million doses to vaccinate 40 percent of the citizens and about 200 million doses to vaccinate 60 percent of the people.
The task force estimates that at the rate at which Bangladesh is now vaccinating, it will be possible to vaccinate 19.64 percent of people by this year. Bangladesh started vaccination on February 8, one year after the start of the coronavirus pandemic with the aim of administering vaccines to 80 percent or 140 million people.
Till July 25, the country had administer single dose of the coronavirus vaccine to 7.5 million people, while 4.3 million people have received both the jabs.
The mass vaccination drive started for free in Bangladesh with Covishield- the Oxford-AstraZeneca vaccine manufactured and marketed by Serum Institute of India (SII).
Even though Bangladesh signed a deal of importing 30 million Covishield vaccine from SII, they have received only seven million doses in two shipments, before the Indian company stalled exports as the Covid-19 situation in India worsened.
Apart from the seven million doses from SII, Bangladesh has also received 3.2 million doses of the vaccines as gift from the Indian government.
The country suffered a crisis of vaccine after India stopped exports. However, the drive restarted with China's Sinopharm vaccine.