Bangladesh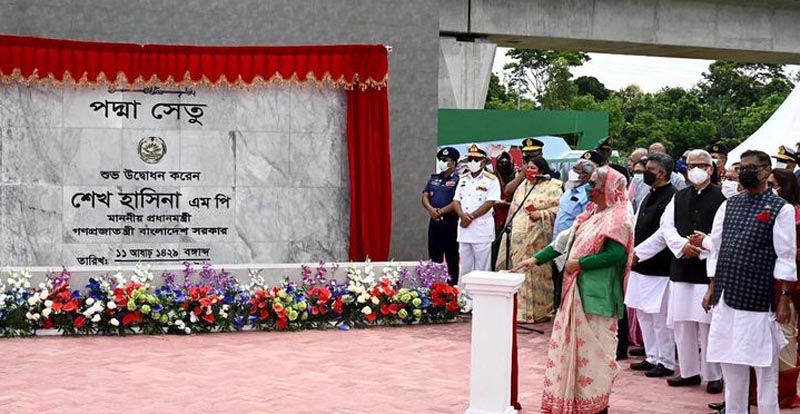 PID Bangladesh
Bangladesh: Padma Setu reduces 90 minutes waterways journey to 6 mins only
Dhaka, June 26, 2022: The Padma Bridge of dreams has finally been inaugurated after ending the wait.
This will save time as well as save the suffering of crossing the Padma. Whereas the launch-ferry used to take one and a half to two hours, now it is easy to cross the 6.15 km long Padma Bridge from the other side of the river in 6-7 minutes. Therefore, the people of South Bengal are most excited about the inauguration of the much awaited bridge.
So far the river has been crossed by launches, speedboats and ferries on the Shimulia-Banglabazar and Majhikandi routes, but now it is possible to travel from South Bengal to Dhaka and from Dhaka to South Bengal via the bridge.
It is learned that it takes 50 minutes to an hour to cross the launch on this route. It takes a little more than an hour and a half for vehicles to cross the ferry. The time is less depending on the current of the river.
Rita Chakraborty from Barisal said, 'We have to wait for hours at the ferry terminal. It takes one to one and a half hours to cross the river. But we have to suffer more in times of emergency. Two of my close relatives died due to not being able to get treatment in Dhaka in time. With the opening of the Padma Bridge, there will be no more misery. No one has to die anymore. '
The dream, capacity and much awaited Padma Bridge was inaugurated on Saturday (June 25). Prime Minister Sheikh Hasina unveiled the plaque of the bridge at Mawa end of Munshiganj around 12 noon. The bridge will be opened to traffic on Sunday (June 26) at 6am.
On July 4, 2001, Prime Minister Sheikh Hasina laid the foundation stone of the dream Padma Bridge. Construction began in November 2014. The truss, made of two-layer steel and concrete, has a four-lane road at the top and a single rail at the bottom.
The main infrastructure is constructed in the Padma-Brahmaputra-Meghna river basin with 42 pillars and 41 spans of 150 m length. The length of the bridge is 8.150 km and the width is 16.10 m. The construction of the Padma Bridge has cost Tk 30,000 crore. These costs include construction of bridge infrastructure, river governance, connecting roads, land acquisition, rehabilitation and environment, salaries and allowances, etc.
According to the agreement of the bridge department with the finance department of Bangladesh, the government gave a loan of Tk 29,793 crore for the construction of the bridge. The bridge authority will pay it at the rate of 1 percent interest within 35 years. China Major Bridge Engineering Construction Company Limited is the contractor for the construction of the 6.15 km dream structure.