Bangladesh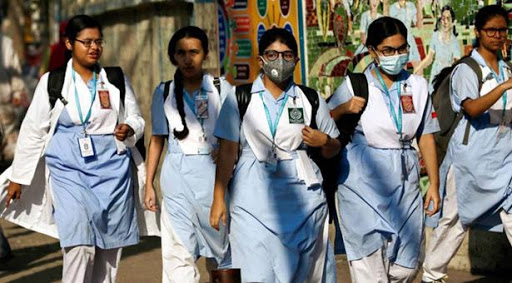 File Picture
Bangladesh: Primary, secondary and higher secondary educational institutions will open on March 30
Own correspondent, Dhaka, 28 February 2021: The government has decided to open primary, secondary and higher secondary level educational institutions from March 30.
The decision was taken at an inter-ministerial meeting held at the Secretariat on Saturday (February 26) night.
After reviewing the overall situation of coronavirus, the Minister of Education decided to open the school-college. The inter-ministerial meeting chaired by Dipu Moni started at 6:30 pm and lasted for two hours. After the meeting, the Education Minister informed the journalists about the decision to open the school-college at around 8:30 pm.
Highlighting the decision of the meeting, the Education Minister said, "We will open all the educational institutions at the primary, secondary and higher secondary levels on March 30, InshaAllah." As I have said before, I will bring the first to the fifth grade every day in phases. We will bring tenth and twelfth grade every day. The rest of the classes will probably come one day a week first, a few days later they will come two days a week. We will gradually take it back to normal, InshaAllah. '
Responding to a question, the minister said, "Six, seven and eight (sixth, seventh and eighth classes) will come one day a week in the beginning." Then we will increase it considering the situation. If it is seen that there is no infection in the country due to vaccination, then we can go back to normal class after 2-3 weeks. And if there is still a risk of infection, then we will do it by staggering, as long as we feel the need. '
'And the eleventh and ninth we will not bring them every day like the twelfth and tenth. But I will try for two days at the beginning. Then maybe I'll try to increase it a little more. Because even if they don't take the test this year, they will give it next year. So they have to spend more time than others. '
Dipu Moni added, 'We will not bring pre-primary now. We will decide when we will bring it after considering the situation, "he said. We hope that we will be able to end the practice of vaccinating teachers and staff before opening an educational institution. '