Bangladesh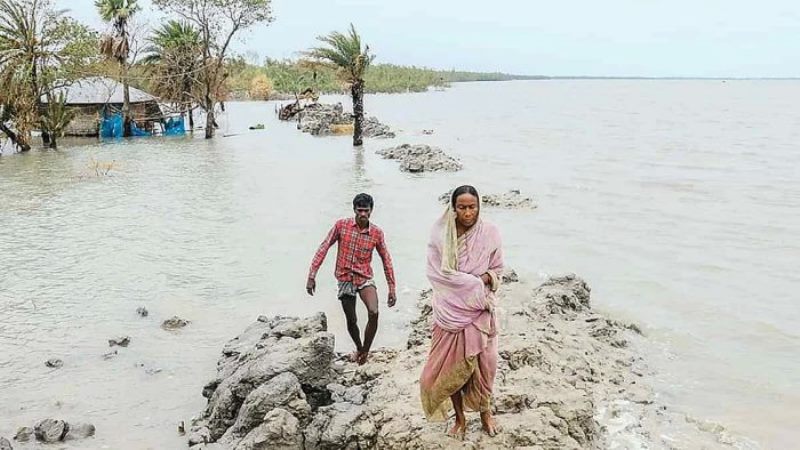 Bangladesh's 17% area could be underwater by 2050
Own Correspondent, Dhaka, Sept 24: Environmentalists have demanded compensation for the most damaging countries from global leaders in a global climate strike. They also claim that world leaders will listen to the affected countries through this compensation.
They made this demand on Friday (September 23) during the strike organized by the environmental organization 'Save Future Bangladesh' in front of the National Press Club on the occasion of 'World Climate Strike 2022'.
The speakers said that despite contributing less than 0.47 percent to global carbon emissions, Bangladesh, a country of 180 million people, is one of the countries most affected and at risk by the effects of climate change.
They said global warming is causing sea level rise due to the melting of Himalayan glaciers and polar ice caps. It also increases the risk of fatal disasters. Due to the impact of climate change, floods, cyclones, droughts, heavy rains, floods, river erosion, and soil salinity are increasing in Bangladesh. Bangladesh is suffering in various ways.
About 17 percent of Bangladesh could be underwater by 2050 as a result of rising sea levels. As a result, two crore people in the country will be displaced. In addition, 27 percent of people in the coastal areas of Bangladesh are currently at risk of flooding. This risk of coastal flooding may increase to 35 percent in the current century. At present, the cost of floods in the coastal areas is about Tk 3000 crore. Assets worth about Tk 10,000 crore were damaged in the cyclone.
Environment and climate activist and chief coordinator of Save Future Bangladesh Nayan Sarkar said the effects of climate change are visible around the world. "We are currently in the middle of a major crisis, which is the climate crisis. World leaders are prolonging the climate crisis by not taking urgent climate action. In the last 20 years, each family in the southern region of Bangladesh has suffered an average financial loss of Tk 4 lakh 62 thousand 491 due to natural calamities. We want damages now. We want climate action and climate justice."
The organization started the programme in front of the National Press Club and went to The Raju Bhaskarja via Shahbagh with a rally and ended the strike by displaying placards.