Bangladesh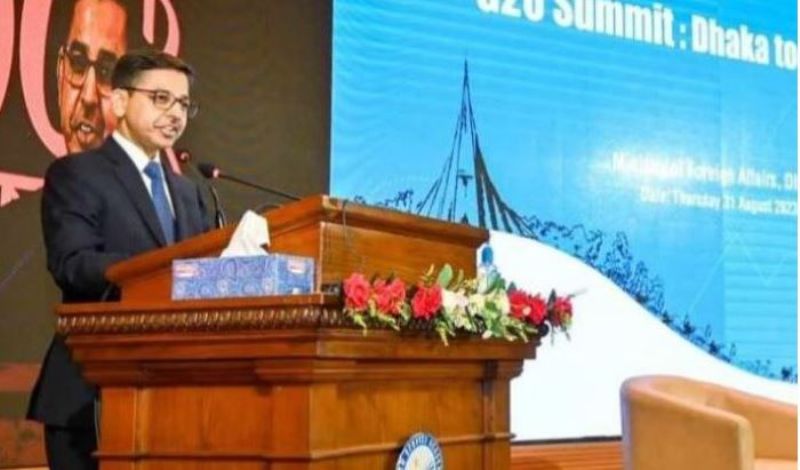 Collected
Bangladesh's participation will enrich the G-20 summit: Ambassador Pranay Verma
Own Correspondent, Dhaka, 31 August 2023: Indian High Commissioner in Dhaka, Pranay Kumar Verma has expressed confidence that Bangladesh has a development story to tell the world at the G-20 summit. He said this at a seminar titled 'Road to G20: Dhaka to New Delhi' at the Foreign Service Academy on Thursday, August 31.
The Indian High Commissioner said, "India has organized the 18th G-20 Summit in Delhi in the next nine days. We are eagerly waiting to welcome Prime Minister Sheikh Hasina there. The invitation of Bangladesh as a guest country in this conference is a reflection of our close friendship and partnership. It is also our firm belief. That Bangladesh has a development story to tell the world at the G-20 conference. Bangladesh's participation will also enrich the G-20 conference."
Ambassador Verma said that the theme of India's G-20 summit means, "The whole world is one family."
"Through this, our ancient philosophy of universalism has been reflected. At the G-20 summit, we want to highlight the theme of our conference, 'One World, One Family and One Future'. It highlights the importance of the interconnectedness of humanity. As a result of this interconnectedness, we The challenges we face, their solutions and our future prosperity also come to the fore. Apart from this, the idea of our unity is conveyed through this theme," the diplomat said.
He said, "India takes over the presidency of the G20 at a time when the world is trying to recover from the Corona pandemic. Besides, supply chain issues, adverse effects of climate, inflation, impending debt crisis, food and energy security, geopolitical uncertainty, etc. The world is facing. It slows down the global economy and creates uncertainty in global economic growth. But in spite of all this, taking the presidency of the G20 is a recognition of our ability to set the agenda and lead efforts for the common good in difficult times. It is also a reflection of the confidence of the international community in our leadership."
The Indian High Commissioner said, "Bangladesh wants to become an upper-middle income country by 2031 and a developed country by 2041. India also wants to become a developed country by 2047. So, naturally, our cooperation will expand to new horizons. This cooperation is important not only bilaterally, It will play a significant role in moving global discussions towards inclusiveness, tolerance and sustainability."