Bangladesh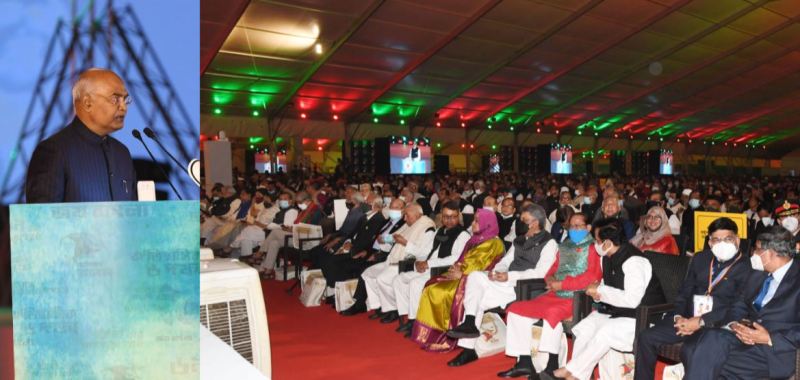 PID
Bangladesh's remarkable economic success can benefit the world: President Kovind
Own Correspondent, Dhaka, December 17: President of India Ram Nath Kovind said, "Bangladesh has achieved remarkable economic growth in the last one decade, which has created opportunities for its citizens to realize their full potential. Geographical advantages and excellent economic success of Bangladesh can benefit the entire sub-region and the world. There is a growing perception among international experts that closer sub-regional trade, economic cooperation and connectivity will help accelerate the process of formation of 'Sonar Bangla' in the short term."
He said this while participating in the second part of the program titled 'Mahabijoyer Mahanayak' at the South Plaza of Jatiya Sangsad Bhaban on the occasion of golden jubilee of Bangladessh and birth centenary of Father of the Nation Bangabandhu Sheikh Mujibur Rahman on Thursday (December 16).
At the beginning of the speech, Kovind thanked and congratulated the people of Bangladesh in Bengali.
In the middle of his speech, he recited a few stanzas of the rebel poet Kazi Nazrul Islam.
He said that human civilization has rarely witnessed such an epic sacrifice like the liberation war of 1971.
"Bangladesh's freedom struggle has taken a special place in the hearts of every Indian, especially my generation," he said.
"Visiting the National Memorial in Savar and Bangabandhu Museum on Wednesday was a deep emotional experience. I was particularly inspired to hear the summary of Bangabandhu's historic March 7 speech. It always stimulates the spirit of justice, freedom and democracy. Therefore, UNESCO has rightly recognized this speech in the world list," Kovind said.
President Kovind said that the extent to which the struggle of Bangladesh has gained sympathy and grassroots support in India is also rare in history. "The people have spontaneously opened their hearts to give all possible assistance to the people of Bangladesh. It was our sacred duty to help our brothers and sisters in their time of need," the Indian President remarked.