Bangladesh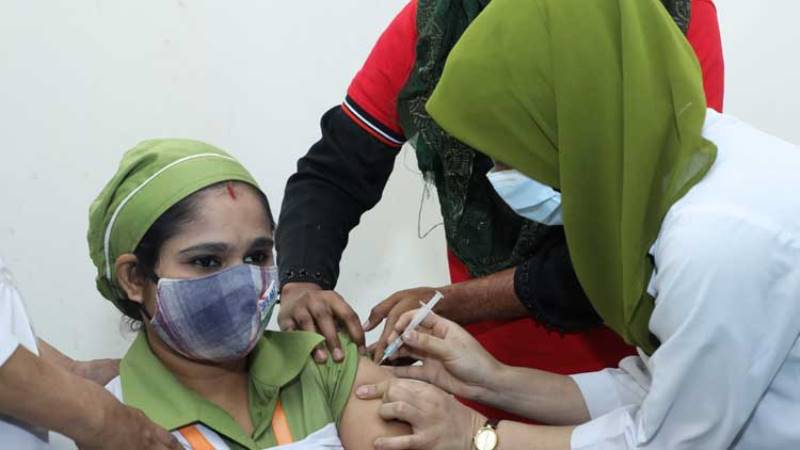 Collected
Bangladesh starts administering China's Sinopharm coronavirus vaccine
Dhaka, June 19: Authorities have started administering the Chinese Sinopharm coronavirus vaccine across the country on Saturday (June 19). In the second phase, on the first day of mass vaccination, vaccinations are taking place at four centers in Dhaka. On the other hand, vaccination activities are going on in one center in each district of the country. Although it rained throughout the day, medical students who are registered on priority basis are coming to get vaccinated with great enthusiasm.
Director of DMC Hospital Brigadier General Nazmul Islam said, "Vaccination of Chinese Sinopharm started from today. Initially, students of DMCH and two other private medical colleges will be vaccinated in the next 3-4 days. Later, those on the priority list, including expatriates, will be vaccinated in phases."
"Medical students are being vaccinated earlier so that patient care is not disrupted if the Indian Delta variant spreads in a deadly form," he added.
Earlier, Dr Md Shamsul Haque, Line Director (MMC & AH) and Member Secretary (Corona Vaccine Management Committee) of the Department of Health, said that all preparations had been completed for the vaccination of Chinese Sinopharm in various hospitals across the country. The vaccine would be given at all government medical college hospitals, government general hospitals, district headquarters hospitals and 250-bed hospitals in the country.
He added that those who have already registered at the center designated for corona vaccination but have not yet received any vaccine will be vaccinated.
Although the vaccination of Sinopharm has started today, the Pfizer vaccines received as a gift from the United States will not be used now.
Earlier on June 14 at the BCPS Auditorium in the capital's Mohakhali, Health Minister Zahid Maleque had expressed hope that vaccination of Sinopharm and Pfizer would start on June 19.
An official from the Department of Health, speaking on condition of anonymity, said the dilution needed to vaccinate Pfizer did not come with the vaccine. So the vaccine is not going to be given at the moment.
It is learned that those who have not been vaccinated before, government health workers, police personnel, expatriate Bangladeshi workers, government-private medical and dental college students, government nursing and midwifery government mats and assistant IST students will get priority in this case. Students in residential halls of government universities will also get this vaccine.