Bangladesh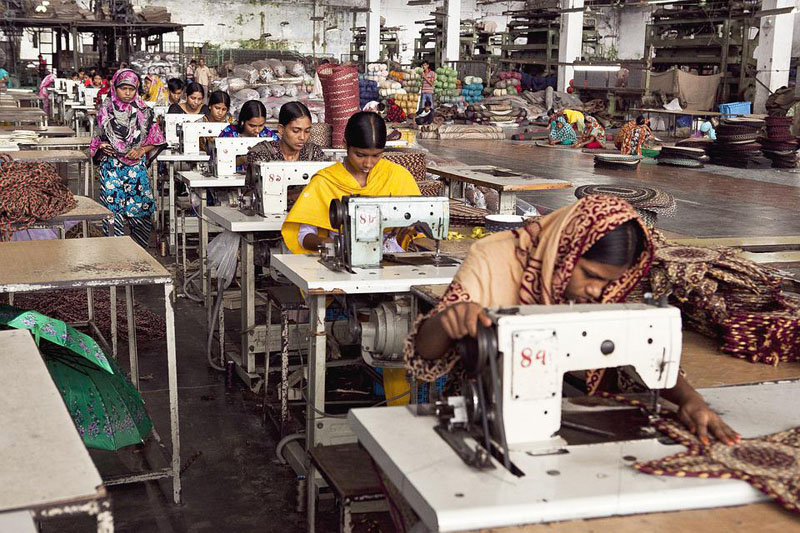 Pixabay
Bangladesh Textile Industry under stress
Dhaka: As the world is facing the consequences of supply chain disruptions post the Covid-19 and rising commodity prices including food and fuel, especially due to Ukraine war, small economies like Bangladesh are facing challenges to sustain requisite growth in their lead sector.
Bangladesh garment industry, the world's second largest exporter after China is facing multi-pronged challenges including power shortage domestically and slowdown in global demand.
Currently the textile industry of Bangladesh is under stress and facing major challenges due to global recession and inflation, unfavourable trade policies, internal security concerns, the higher cost of imported inputs apart from post Covid-19 supply chain disruptions and decline in global demand.
Country's garment industry is facing acute shortage of power affecting production on one hand while its major markets are postponing shipments due to surging inflation.
Plummy Fashion Ltd; a supplier of PVH Corp., the parent company of fashion brand Tommy Hillfiger and Inditex SA's Zara, saw a drop of 20% in new orders in July from a year earlier.
Retailers in both European and US markets are either deferring the shipments of finished products or delaying orders due to soaring inflation.
It is impacting Bangladesh exports. Weakening currencies of some of the competitors like Pakistan also bear negatively on the competitiveness of Bangladesh garment products.
The energy crisis has increased cost of doing business in the country. Standard Group Ltd., one of the leading exporters that supplies to Gap Inc. and H&M Hennes & Mauritz AB claims that it relies on generators for at least 3 hours a day to power for its dyeing and washing units in the manufacturing hub of Gazipur on the outskirts of Dhaka.
The cost of electricity from generators is three times more than power from regional grid.
At the onset of Covid-19 outbreak, Bangladesh garment orders worth USD 2.87 billion were cancelled as of March 31, 2020 according to a Bangladesh Garment Manufacturers Association (BGMA) estimate.
This affected about 2.09 million workers and over 1,048 factories. In the first week of April 2020, RMG exports declined by almost 84%.
Since then the RMG exports could not pick up to the desired level of growth due to constricted demand and radical shifts in consumer tastes apart from Covid-19 related obstacles.
According to Policy Insights, a flagship publication of the Policy Research Institute in Bangladesh, the country's RMG has considerably grown in recent decades increasing from USD 120,000 in FY 1985 to about USD 34 billion in 2019.
However, all the growth came in with massive over-concentration in a few products and few markets.
Five basic items (T-shirts, trousers, jackets, sweaters and shirts) account for 73% of Bangladesh RMG exports.
These products also belong to the low unit value market segment, in which the global import share is 54% compared with Bangladesh's export share of 76%.
According to Bangladesh Bureau of Statistics (BBS) estimate, Bangladesh growth, which had declined to 3.5% in 2020 due to covid-19 led disruptions recovered to 6.9% in 2021.
The early data for leading indicators such as industrial production, electricity use, exports and imports, and revenue collection have rebounded and recovery is likely to continue in FY 2022.
Despite optimistic recovery prospects in the near terms, Bangladesh faces significant challenges to restore post pandemic growth rates in line with the Eighth Five Year Plan's targets.
These challenges mainly emanate from changing and challenging international environment and a substantial pending agenda to strengthen growth factors which have become shaky due to prevailing uncertainties.
Slow recovery in China and US economy due to pandemic related disruptions and Russia Ukraine war would directly affect Bangladesh, especially the rising fertiliser prices as Bangladesh imports three-fourths of the 5 million of fertilizer its uses annually.
Garment industry makes up more than 10% of Bangladesh's Gross Domestic Product (GDP) and employs more than 4.4 million people.
If this industry does not pick up its momentum of recovery, especially exports, the continuity of recovery might come under pressure.
The country needs to find solution to power shortage. It is felt that resorting to power cuts to preserve fuel reserves amid regional energy crises is not a right strategy as it erodes productivity and competitiveness of garment industry.
Bangladesh is already facing depletion of foreign exchange reserves which slipped to USD 39.79 billion as on July 13 from USD 45.33 billion earlier while the country's trade deficit widened to a record USD 33.3 billion in FY 2022, ending June.
Bangladesh needs to trample cautiously while economic pressures are building up.
The quick or convenient offers from countries which may create debt trap needs to be avoided. Keeping this in view, the policy makers in Bangladesh have sought loan from the International Monetary Fund for short-term support.