Bangladesh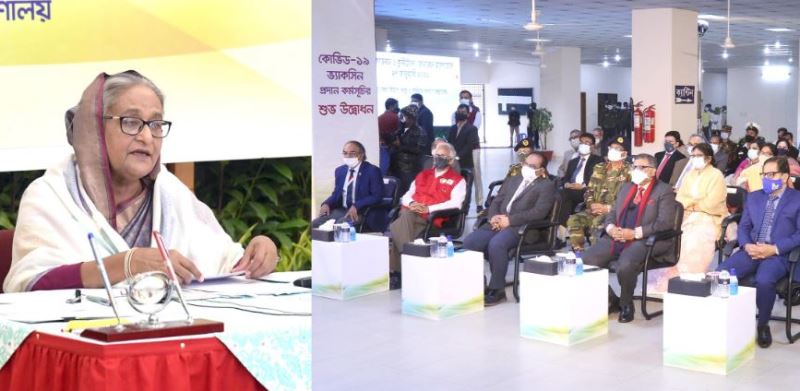 PID
Bangladesh to get 34 million Covid-19 vaccine: Prime Minister Hasina
Dhaka, January 28: Prime Minister Sheikh Hasina has said that Bangladesh will get 34 million vaccines. She made the remarks at the inaugural function of the coronavirus vaccine program at Kurmitola General Hospital in the capital on Wednesday (January 27).
"We have an agreement to bring in vaccines. We are going to start vaccinations. Unfortunately, we have some people who have a negative attitude towards everything. They don't help people, they try to instill fear. They don't like anything," she said.
"Will the vaccine come or not? Why is the price so high? What will happen if it is given? They say these things. But thanks to them, the more they criticize, the faster we are inspired to act."
"We have been able to buy and bring vaccines in time. Hopefully, by the grace of God, we will be able to protect the people of this country. It is our duty to fulfill the basic human rights. We try to serve the people," she said.
After the speech, the Prime Minister inaugurated the vaccination program. After the announcement of the Prime Minister, five people were vaccinated against coronavirus.
Runu Veronica Costa took the first vaccine. Then four more people were vaccinated. Prime Minister Sheikh Hasina congratulated each of them on the occasion.
The initial vaccination program will start from Thursday (January 28) in the remaining four hospitals.