Bangladesh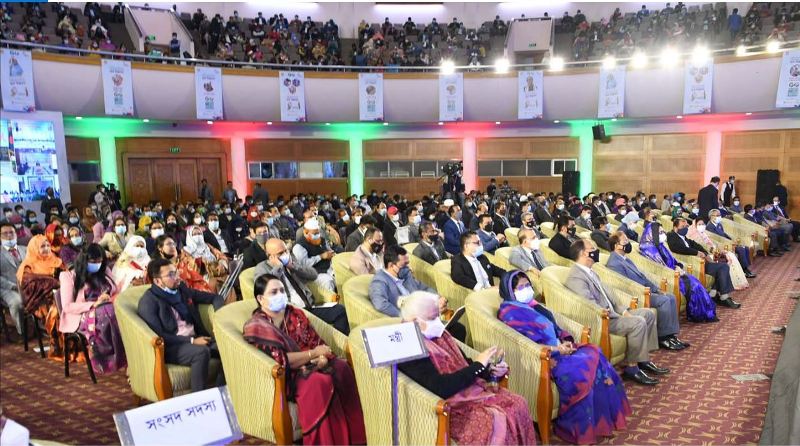 PID
Being in power continuously, I am able to develop the country: PM Hasina
Dhaka, January 14: Thanking the citizens, Prime Minister Sheikh Hasina has said that she has been able to develop Bangladesh due to her long tenure as the country head. "The people of the country have repeatedly voted for us. Has confidence in us, has faith. That's why I got the opportunity to serve. Being in power continuously, I am able to develop the country."
She said it On Thursday (January 14) while attending the Social Security Enclosure Program of the Ministry of Social Welfare, education stipends for the elderly, widows and husbands, indigent, handicapped and handicapped students were sent to the beneficiaries through Government Financial Services 'Nagad' and 'Bikash'. The Prime Minister atteded the programme virtually.
Sheikh Hasina said not a single person in Bangladesh will be landless and homeless. Each person will be given an address. Electricity will be delivered from house to house.
The Prime Minister called upon the government as well as those involved in various sections and professions of the society to fulfill their respective responsibilities for the socio-economic development of the country this year on the birth centenary of the Father of the Nation and the golden jubilee of independence.
She said, "I believe that if we all work together, we can take the country forward and build it as the Golden Bengal the Father of the Nation Bangabandhu dreamt of."
She said the country is moving forward with the welfare of digital technology. Through cash and development, education stipends for the elderly, widows and husbands, the needy, the disabled and the handicapped will reach out.
The Prime Minister said that even if the constitution passed by the Father of the Nation is well read, what needs to be done for the people of any class and profession in this society will be known.
On the occasion, the beneficiaries from different districts including Chandpur, Lalmonirhat, Barisal joined the Prime Minister and spoke to him and expressed their gratitude to the Prime Minister for making arrangements to get money on mobile phones without any hassle.
At that time, the Prime Minister instructed everyone to wear masks and follow the hygiene rules to stay free from coronavirus.