Bangladesh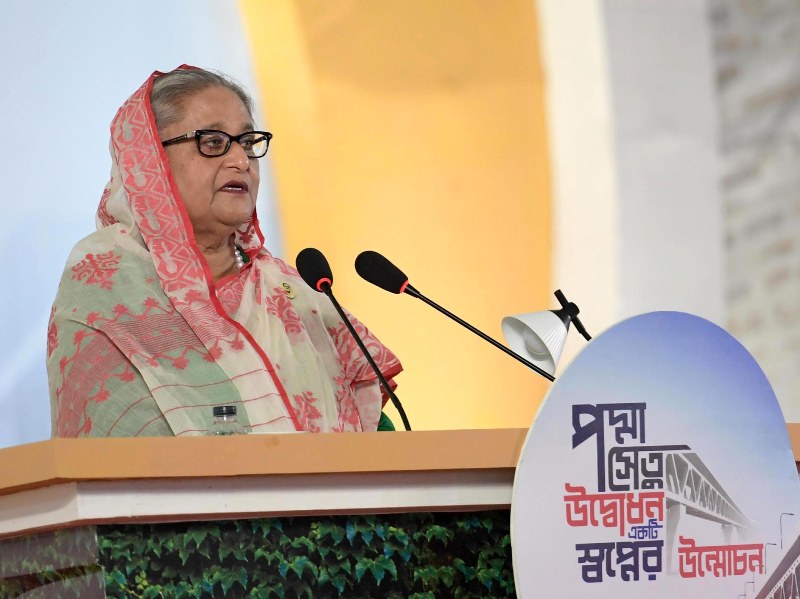 Photo: PID
Bengali nation stands again with head held high: PM
Own Correspondent, Dhaka, June 25: Prime Minister Sheikh Hasina has said that Padma Bridge is not just a bridge, it is a symbol of our dignity and capability. It is our passion, the reflection of Bangladesh. I am proud of the Padma Bridge. The Prime Minister made the remarks at an event to mark the inauguration of the Padma Bridge at Mawa end at 10:50 am on Saturday (June 25).
At the beginning of her speech, Sheikh Hasina said, "We are standing at a special juncture in history. The Padma Bridge, the pride of the people of Bengal, is going to be inaugurated soon. I would like to express my gratitude to all the officials and employees involved in the construction of this bridge, local and foreign expert consultants, contractors, engineers, technicians, workers, members of the army in charge of security. Thanks to the residents on both sides of the Padma Bridge whose lands and houses have been damaged. The nation will always remember their sacrifice and cooperation."
She said, "I am happy, proud and overwhelmed with millions of people in the country today. Overcoming many obstacles and breaking the web of conspiracy, many coveted bridges have been erected on the chest of the turbulent Padma River today. This bridge is not just a brick-cement-steel-iron or concrete structure, it is a symbol of our pride, ability and dignity. This bridge belongs to the people of Bangladesh. It involves our passion, our creativity, our courage, our endurance and our perseverance."

Photo: PID
"As a result of the conspiracy, the construction of our bridge has been delayed a bit, but we have not given up. At last we saw light in the darkness. Red, blue, green and golden lights are shining on the chest of Padma. Fourty-one spans are like a reflection of a competitive Bangladesh. Bangabandhu Sheikh Mujibur Rahman said, 'No one can oppress seven crore Bengalis'. We have won. We have not bowed our heads," the Prime Minister said.
"The Bengali nation never bows its head. Father of the Nation Bangabandhu Sheikh Mujib did not bow his head, he did not teach us to bow our heads, he stood on the gallows and sang the triumph of life. Under his leadership, we have snatched the red sun of independence through 23 years of political struggle and nine months of liberation war. Following in his footsteps, Bangladesh today stands tall in the world," she added.