Bangladesh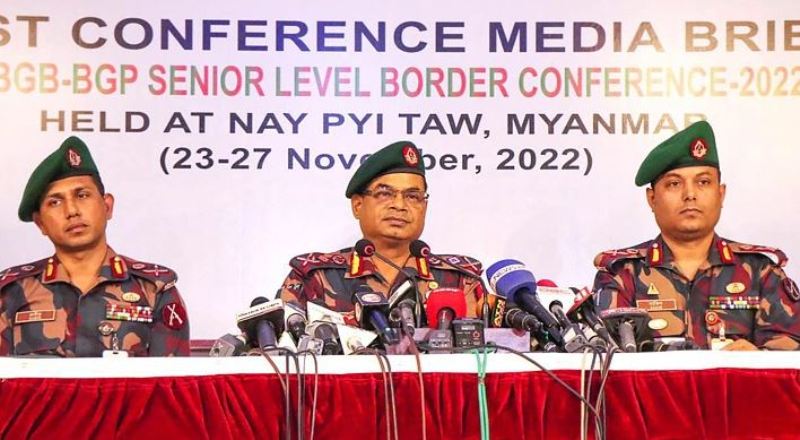 Collected
BGB-BGP will work jointly to maintain peace on the border
Dhaka, November 30: There was a discussion about working jointly by increasing information and communication between the two countries to maintain peace on the Bangladesh-Myanmar border. Border Guard Bangladesh (BGB) Director General Major General Sakil Ahmed said.
He said that in recent times there have been discussions on resolving the tense situation on the border due to the internal conflict in Myanmar, violation of airspace, dealing with inter-state terrorism. At the same time, very effective and fruitful discussions were held between BGB and BGP on various ways to increase mutual trust.
He said these things at a press conference organized on Bangladesh-Myanmar border conference at Shahid Captain Ashraf Hall of BGB headquarters in Pilkhana on Tuesday (November 29). After two years and 10 months, a four-day border conference between the Border Guard Bangladesh (BGB) and the Myanmar Border Guard Police (BGP) began in Myanmar's capital Nay Pyi Taw on November 24. He spoke about the decisions taken on various issues between the two countries in this border conference.
Major General Sakil Ahmed said about the discussion at the border conference, it discussed the prevention of activities of cross-border criminal gangs, prevention of illegal infiltration, Yaba and crystal meth ice and other drugs and human trafficking. At the same time, there were talks about increasing mutual cooperation in the overall security of the border, exchanging various information related to the border, conducting joint patrols, organizing regular coordination meetings and flag meetings at the region and battalion levels. Also discussed are the repatriation of citizens of both countries who have been detained at the border, who have been sentenced, and the return of forcibly displaced Myanmar citizens (Rohingya) to their original homeland.
The BGB director general also said, "We have said about the violation of the rules and crossing the air border. If this happens, there is local fear or doubt in the border area. It is a hindrance for peace on the border. If drones, helicopters are required to be flown, let us be informed. We should I can keep an eye on whether border crossing happens or not. They (BGP) have assured to share information and such incidents will not happen in future."
Regarding the placing of landmines on the border, he said that several Bangladeshis were injured in the landmine explosion. Their (Myanmar) nationals also suffered casualties. Barbed wire has been electrified along the border. Casualties may occur if citizens of the two countries come into contact with it unintentionally or accidentally. They assured to cooperate in this matter.