Bangladesh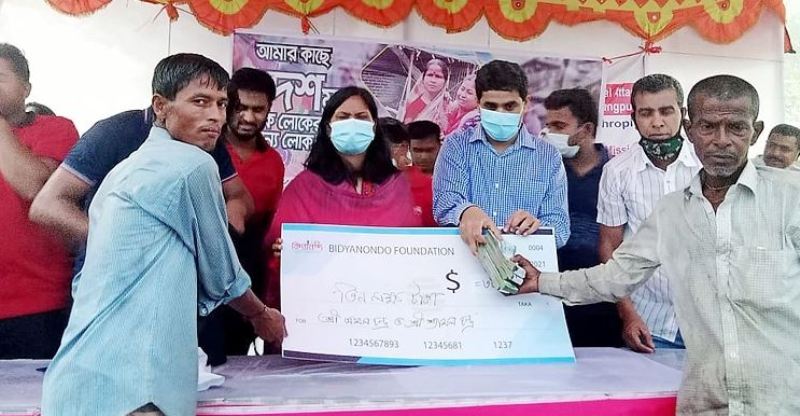 Collected
Bidyanondo Foundation donates Tk 1 lakh per family affected in Pirganj fire
Dhaka, October 21: The Bidyanondo Foundation has provided cash assistance to rehabilitate 26 families affected by the arson and looting incident at Jalepalli in Pirganj in Rangpur district. The foundation handed over Tk 31 lakh in cash to the affected families. A maximum of Tk five lakh was handed over to the family of the most affected Debendranath of Majhipara. while, a minimum of Tk one lakh was given to each family.
The aid was given at a function held at a local school ground on Wednesday (October 20). Rangpur Deputy Commissioner Md. Asib Ahsan handed over the aid as the chief guest on the occasion.
Also present were Additional Deputy Commissioner of Rangpur Golam Rabbani, Pirganj Upazila Executive Officer Biroda Rani Roy, local people's representatives and Bidyanondo's volunteers.
Speaking as the chief guest under the chairmanship of Bidyanondo Foundation Board Member Jamal Uddin, the Deputy Commissioner said that the big support provided by the government as well as Bidyanondo Foundation would help the affected families to turn around.
He talked to the families and gave them directions on how to spend the money. At this time he thanked Vidyananda's volunteers.
In his speech, Md. Jamal Uddin said, "We may be able to compensate the financial loss of the families affected by the communal attack. But we may never be able to make up for their emotional pain." He also apologised to the affected people.
Bidyanondo's Head of Communication Salman Khan Yasin said the the foundation always works for the poor and needy while maintaining religious harmony.
Addressing the victims, he said, "We want to convey the message that you are not alone, the whole of Bangladesh is by your side. In the last two days, we went from house to house to check the amount of damage and gave cash of Tk 31 lakh to 26 families and utensils, clothes and food items for cooking."
According to Bidyanondo, this assistance is the largest public-private assistance so far and the full amount has been given by the expatriate Bangladeshis in the country and abroad.