Bangladesh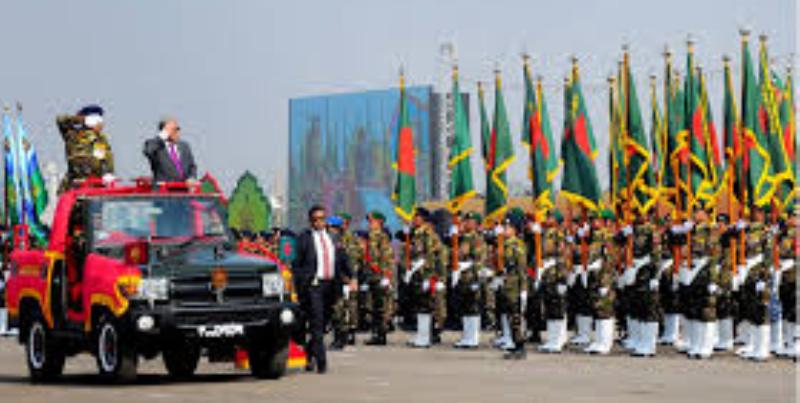 Amirul Momenin
Bijoy Divas event on parade ground cancelled
Dhaka, November 22, 2020: Due to the epidemic coronavirus, the joint military parade of the armed forces at the National Parade Square in Tejgaon on December 16 has been canceled. Prime Minister Sheikh Hasina has given instructions in this regard.
This information has been revealed from the working paper of the second virtual meeting of the inter-ministerial on the occasion of Victory Day celebrations. Liberation War Affairs Minister AQM Mozammel Haque presided over the meeting.
According to the working paper, a detailed program was formulated at the first inter-ministerial meeting on Victory Day. If the program is presented to the Prime Minister, he has kindly instructed that it is not possible to hold the national parade this year due to large crowds due to the risk of coronavirus. The Prime Minister has directed to carry out other programs on a limited scale.
Therefore, as per the instructions of the Minister for Liberation War Affairs, a second meeting was convened to formulate a limited program in consultation with all.
Members of the Bangladesh Army, Bangladesh Navy and Bangladesh Air Force usually join the joint military parade held at the National Parade Square on Victory Day. The President took salute as part of the parade. The Prime Minister, cabinet members, judges, chiefs of the three forces, members of parliament, diplomats and invited foreign guests were present on the occasion. The parade features an attractive aerobatic display of the Air Force.
According to the Ministry of Liberation War Affairs, there will be 31 artillery shelling in Dhaka and all districts and upazilas of the country as soon as the sun rises on December 16 on the Victory Day of Era.
As soon as the sun rises on Victory Day, the President and later the Prime Minister will lay a wreath at the National Memorial in Savar.
After that, members of the Bir Shrestha family, war-wounded freedom fighters and freedom fighters present at the Savar National Memorial under the leadership of the Liberation War Minister will lay wreaths in compliance with the health rules. An exhibition of posters based on the history and heritage of the Liberation War will be organized at the Independence Pillar and Underground Museum at Suhrawardy Udyan. A small number of visitors will be allowed to enter there in compliance with the health rules.
The Ministry of Liberation War Affairs has also informed that a discussion meeting titled 'Achieving National Prosperity through the best use of digital technology and holding the spirit of the Liberation War in building the golden Bengal of the dream of the Father of the Nation' will be held on the occasion of Victory Day.