Bangladesh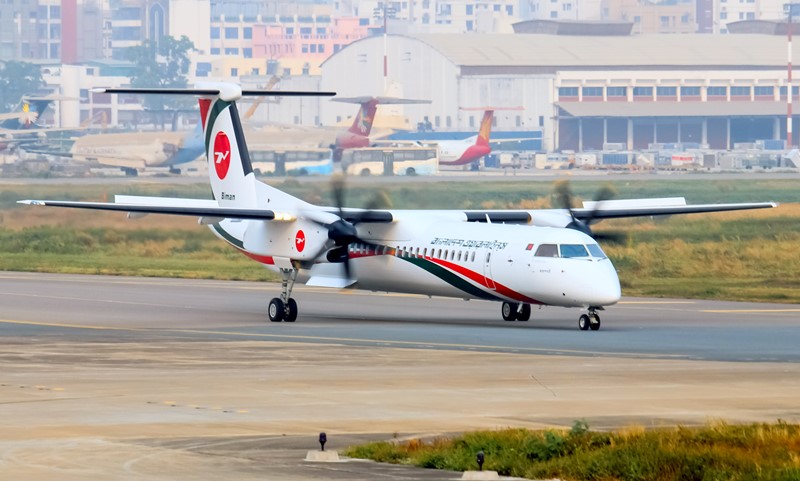 Photo: Wikimedia Commons/Md Shaifuzzaman Ayon
Biman Bangladesh flight makes emergency landing at Dhaka airport
Dhaka, March 7: A Biman Bangladesh Airlines passenger flight from Kolkata to Dhaka made an emergency landing at Hazrat Shahjalal International Airport. This incident happened on Monday morning in Biman's BG-392 flight.
According to airport sources, the flight was coming from Kolkata. The flight made an emergency landing when the right rear tire burst mid-air. All 72 passengers on the flight are safe.
According to airport sources, the flight was being operated by a Dash 8-400 model aircraft imported from Canada. It departed Kolkata airport for Dhaka at 8:49 am local time in India. Shahjalal International Airport completed its preparations when it decided to make an emergency landing around 9:45 am. Later it landed safely at 10 am. Meanwhile, three fire service units were present at the airport to avoid any major accident during landing. But they didn't have to engage.
Earlier last month, a Bangladesh Biman aircraft got stuck on the runway after a tire burst while taking off at Sylhet MAG Osmani International Airport. The incident happened moments before flight BG 602 with 148 passengers took off for Dhaka.
The stranded aircraft was later removed from the runway. Due to the incident, flight operations were stopped at the airport for nearly 2.5 hours.