Bangladesh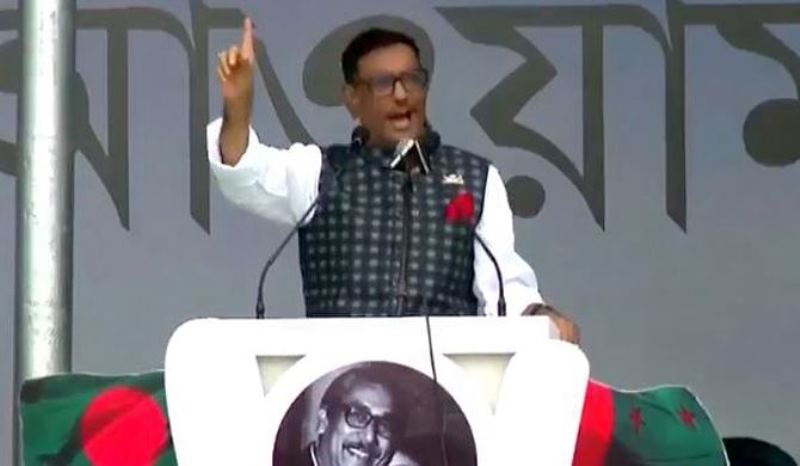 File photo
BNP could never wipe the blood stains on their hands: Quader
Own Correspondent, Dhaka, Nov 27: Awami League General Secretary Obaidul Quader said BNP has never been able to wipe the blood stains on their hands. Obaidul Quader said this in a statement on Friday.
In the statement, he condemned and protested against the false, baseless and purposeful comments of BNP Secretary General Mirza Fakhrul Islam Alamgir.
Obaidul Quader said that the BNP leaders including Mirza Fakhrul are delirious because of the people's response to the anti-government movement. The large number of people at the Prime Minister's public meeting in Jashowe on Thursday proved once again that the people of the country have confidence in the government of Bangabandhu's daughter Sheikh Hasina. But the BNP leaders are continuing their usual lies to steal political benefits by presenting fabricated information and creating confusion by spreading rumours.
He said that the BNP leaders, who are desperate to grab power by any means, have chosen unethical politics and terrorist methods. On one hand they are indulging in deep conspiracy against the country. On the other hand, they are running the steps of creating an unstable environment through spreading confusion and creating fear in the public mind and terrorist activities.
General Secretary of Awami League said that BNP is holding meetings in different parts of the country every day. Again the government is begging for political mercy from their foreign masters by falsely accusing them of obstructing it. Because there is a free democratic environment in Bangladesh, BNP leaders are able to lie against the government in the name of rally every day. In fact, BNP is the main obstacle to the spirit of great liberation war and democratic ideals and values ​​in this country. BNP has always supported the anti-communal forces of the liberation war.
He said BNP could never wipe the blood stains on their hands. Couldn't get rid of blood addiction. Ziaur Rahman, the cruelest dictator in history, established BNP by seizing power in an illegal and unconstitutional manner through murder-cue-conspiracy; They are trying to wipe out the country's democratic system forever by shedding blood. Political parties that rise and run under autocracy never embrace and nurture democracy.
Quader said that the killing of the Father of the Nation Bangabandhu Sheikh Mujibur Rahman and his family on August 15, the killing of four national leaders inside the jail on November 3 and the barbaric and brutal grenade attack on August 21, 2004 to wipe out the then opposition party Awami League do not befit the words of democracy.