Bangladesh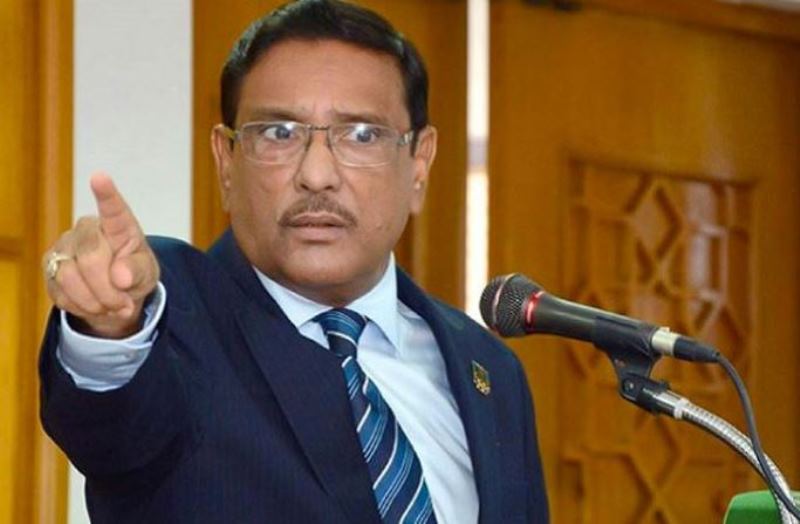 File photo
BNP drowning in despair after getting no response from foreigners: Obaidul Quader
Dhaka, May 30: Awami League General Secretary and Road Transport and Bridges Minister Obaidul Quader said that BNP is now plunged into deep depression without getting any response from foreign masters as per the blueprint. He said this in a statement sent to the media on Monday. This statement was issued to condemn and protest the lies and false statements of BNP Secretary General Mirza Fakhrul Islam Alamgir.
Obaidul Quader said, "BNP has lost its path of movement and is disoriented. BNP is now plunged into deep depression without getting response from the foreign masters as per the blueprint. If the BNP does not participate in the election, the election will not be considered participatory in the national and international spheres, the propaganda that is against the underlying ideals of democracy has come to an end."
He said, "The conspiracy of BNP to boycott the election has failed due to the new visa policy of the United States. At the same time, the United States has issued a strict warning against BNP's arson, terrorism and destructive activities to disrupt the elections."
Awami League general secretary said, BNP has hired lobbyist firms by spending millions of dollars to appease foreign masters. Their conspiracy still continues. Not getting the expected response from the foreign masters, they are now plotting new dramas against the government and Awami League in the light of the new visa policy of the United States.
He said that somewhere he got injured in a fight and blamed it on the government. Somewhere, Awami League is provoking the leaders and activists with obscene and ugly slogans and statements against Bangabandhu's daughter Sheikh Hasina. Somewhere they are trying to blame the government by carrying out unprovoked ambushes on the police.
Obaidul Quader said that the people of the country have not forgotten the terrible misrule of BNP-Jamaat from 2001 to 2006. Thousands of Awami League leaders and activists have been tortured. Awami League leaders and workers could not even go to their party office. Awami League leader Shah AMS Kibria, Ahsan Ullah Master, Manjurul Imam, Mumtaz Uddin including 21 thousand activists were killed. He mentioned that even the then British High Commissioner Anwar Chowdhury was not spared from terrorist attacks.
Quader said, BNP cadres from 8-year-old children to 70-year-old women have lost their dignity due to the crime of voting by boat. On August 21, 2004, the BNP-Jamaat coalition government tried to wipe out the Awami League by carrying out a hellish grenade attack.