Bangladesh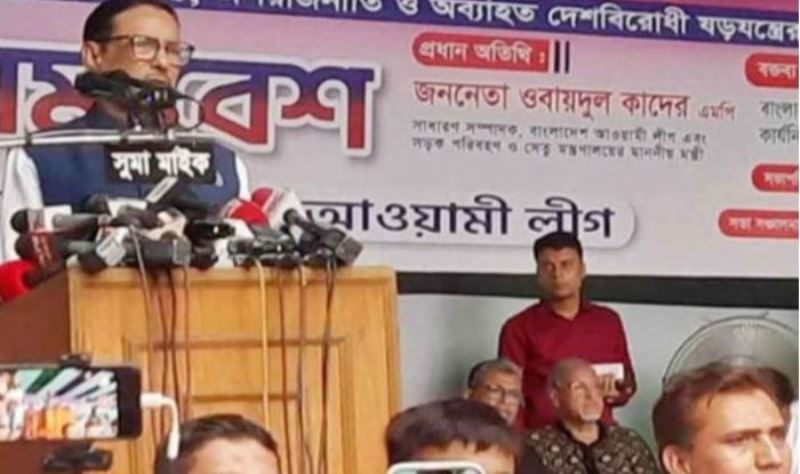 Photo: Collected
BNP is holding a mourning procession after failing in movement: Quader
Dhaka, August 26: General Secretary of Awami League and Minister of Road Transport and Bridges Obaidul Quader has commented that BNP has started a mourning procession with black flags.
He said, BNP calls a mass rally, how can a mass rally be a mass rally in which there are no people? Awami League will show BNP what mass march is called. Awami League's procession means the mass of the people. Awami League will hold a rally of millions of young people on September 1. Awami League will show a procession of millions of young people with the flag of victory, not the black flag of mourning.
He said these things at the Dhaka Metropolitan South Awami League's peace rally at Bangabandhu Avenue in the capital on Friday afternoon.
Obaidul Quader said that the voice of BNP leaders has decreased, there is no strength for the procession. There is no wave in the dead gang of their movement. The movement of BNP was destroyed in the cow market. BNP has a picnic party in the name of rally.
Meanwhile, Bridges Minister claimed that BNP is daydreaming of bringing down Sheikh Hasina where 70 percent of people want Sheikh Hasina. How will the BNP send away the person who is loved by the people?
Obaidul Quader commented on BNP ban and fear of visa policy and said that this country is a country of freedom fighters and not of any weak forces. We do not think that the power of Bangladesh is safe in the hands of corrupt people like BNP. If Awami League is united, victory in the next election is certain.
Dhaka Metropolitan South Awami League President Abu Ahmed Mannafi presided over the rally. Awami League presidium member Dr. Mostafa Jalal Mohiuddin, joint general secretary Mahbubul Alam Hanif, organizing secretary SM Kamal Hossain and executive member Sanjida Khanam also spoke.