Bangladesh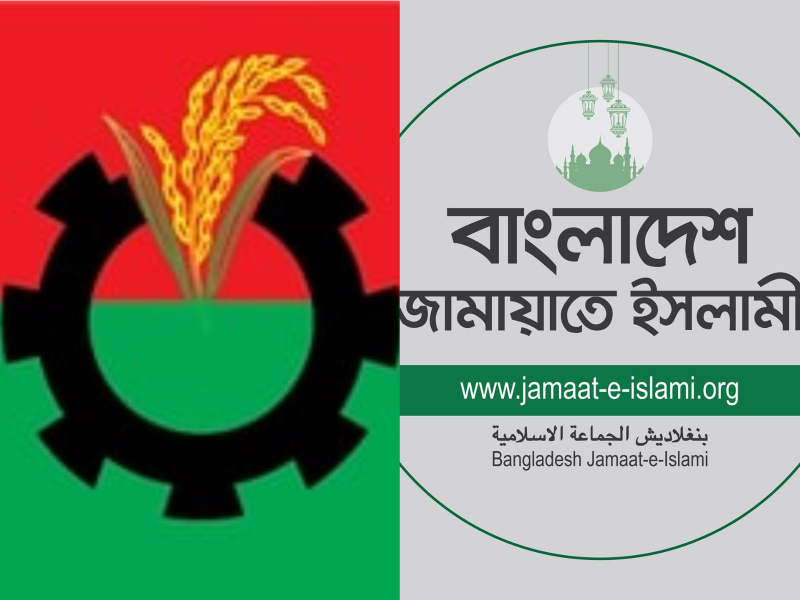 Collected
BNP-Jamaat plan to unleash massive violence in order to dismiss parliamentary elections
Bangladesh' next general election is most likely to be held in the first week of January 2024 and indications are that the Bangladesh Nationalist Party (BNP) and its ally, the Jamaat-e-Islami (JeI), which has lost the support and sympathy of the people, will try to undermine the validity of the election process by violent protests and attacks on ordinary Bangladeshis, especially targeting minorities.
In December, on the eve of Victory Day, marking victory in Bangladesh's nine-month War of Liberation against Pakistani occupation forces in 1971, Prime Minister Sheikh Hasina, in an address to the nation on Bangladesh Television, asked the nation to decide between the Jamaat-e-Islami and the BNP who established only communalism, militancy, and politics of killing, or her Awami League, to go ahead with progress, and fulfil the dream of Father of the Nation, Bangabandhu Sheikh Mujibur Rahman by establishing a happy, prosperous, non-communal Bangladesh.
Hasina warned that the descendants of the "vultures of 1971" and the "hyenas of 1975" are still active in this country. The reason that the Prime Minister has to remind ordinary Bangladeshi citizens to choose wisely is because in the previous general elections, the BNP-Jamaat alliance had unleashed violence on a massive scale.
BNP and Jamaat campaigns of domestic terror:
Since 2009, Bangladesh Nationalist Party (BNP) along with its extremist allies Jamaat E Islami and its student wing, Islami Chhatra Shibir, have relied on violent street protests targeting civilians and law enforcement officials, intermittent and targeted attacks on religious minorities and assassination of political opponents. They have banded with violent extremist organisations like Jamaatul Mujahideen Bangladesh (JMB) and Harkat ul Jihad (HuJ) to propagate hate-based communal politics characterised by poll related violence especially targeting law enforcement and ordinary citizens, in order to dismiss and malign the electoral process.
Even prior to the elections, throughout most of 2013, the BNP and its alliance of 18 opposition parties led by three-time former prime minister and Opposition Leader Khaleda Zia, called more than 85 days of nationwide general strikes and blockades that brought the entire country to a grinding halt.
Following months of protests, strikes and blockades, the BNP and its allies formally announced a boycott of the election.
On 13 December 2014, Jamaat-e-Islami's Abdul Quader Mollah became the first person to be executed for war crimes relating to the Bangladesh Independence War resulting in violent protests by the Islamist opposition. In retaliation, two Awami League party activists were hacked to death in Kalaroa, while the Jamaat-e-Islami's activists firebombed train stations and blockaded roads.
As activists of Jamaat-e-Islami and its student wing Islami Chhatra Shibir engaged in violence following the execution of Mollah, hundreds of people across the country were injured and dozens killed in the next few days.
Between 2013-15, in the run-up tothe parliamentary elections, began the BNP-Jamaat's mindless execution of firebombs and arson attacks unleashed to bring down the Sheikh Hasina government.
Sheikh Hasina, while agreeing with the right of the opposition to protest,said: "You can wage anti-government agitation. But make sure people arenot killed by your movement."
Nevertheless the violence continued andcountless people including law-enforcement personnel were at the receiving endof this unrest.
Between 2013-15, BNP-Jamaat combine tried to undermine the national elections by boycotting them andengaging in months of strikes, coupled with arson attacks and petrol bombingthat killed more than 100 people. The massive use of petrol bombs and Molotovcocktails targeting public transport became the signature tactics of the BNP-Jamaat rioters.
BNP-Jamaat targeted minorities:
BNP and Jamaat-e-Islami activists also attacked their Awami League counterparts and Hindus in several villages under Thakurgaon Sadar Upazila leaving dozens injured and their houses and shops vandalised and looted.
The attacks spread through many villages including Jhakua, Jhardanga, Baniyapara and Mondoppara. Hundreds of Hindus from these villages had fled fearing further attacks.
On 7 January, two Hindus temples, Radha Gobind Mandir and Kali Mandir, were burnt by BNP party members.Fearing rape threats, female members of Hindu families were sent away to their relatives' homes by their families in Abhaynagar of Jessore, Dinajpur, and Thakurgaon. Attacks also occurred in Dinajpur, Rangpur, Bogra, Lalmonirhat, Rajshahi, Chittagong and Jessore.
According to the US Department of State's International Religious Freedom Report 2005:
"Reports of BNP harassment of Hindus, who traditionally vote for the AL (Awami League), preceded and followed the 2001 election. Reported incidents included killings, rape, looting, and torture... Since the 2001 elections, religious minorities reportedly have continued to be targeted for attacks, which have led to the requirement for guards to be present at church and temple ceremonies. Reportedly, incidents include killings, rape, torture, attacks on places of worship, destruction of homes, forced evictions, and desecration of items of worship."
Economic Costs:
BNP-Jamaat's violence to stop the war crimes trials cost the Bangladesh economy at least 50,000 crore Taka (or more than USD 6 billion) in the last six months of 2013 alone.
According to the Dhaka Chamber of Commerce and Industry, one of the country's premier trade bodies, each day of hartal (strikes) and blockades cost the nation 1,600 crore Taka (or USD 192.3 million) or 0.2% of the GDP. This means that the more than 8 months' worth of strikes and blockades by BNP-Jamaat in 2013, 2014 and 2015 cost the nation more than USD 1.53 billion, which does not even include the actual costs of the properties damaged by BNP-Jamaat violence during these times.
Decoding BNP-Jamaat latest tactics:
For its role in 1971, the Jamaat has been dubbed as a terrorist organisation in several judgements delivered by the International Criminal Tribunal of Bangladesh. Its registration as a parliamentary party with the Election Commission was scrapped by the High Court in 2013 as its objectives stipulated in its charter is against the country's constitution. It means Jamaat is now disqualified to contest the parliamentary elections. And despite that, BNP leadership of Khaleda Zia and Tarique Rahman still favour keeping ties with Jamaat when many of their party's leaders blame the party's present sorry state for maintaining ties with the anti-independence force.
The fact is that the BNP's platforms and ideas have failed to draw many followers. Jamaat's tactics have been condemned by several international organizations, including the European Parliament, which has urged the BNP to "unequivocally" distance itself from Jamaat.
So this time in an attempt to project a moderate face, the BNP-Jamaat alliance has been trying to link up with other apparently secular parties like Kamal Hossain's Gana Forum.
"This is a clever BNP ploy to gain acceptability in India and the West but this will never happen," said Bangladesh watcher Sukharanjan Dasgupta, author of 'Midnight Massacre' on the 1975 Bangladesh coup.
The BNP is making pretence of keeping the Jamaat at arm's length for tactical reasons, but in reality, the two will combine to launch a campaign of street violence similar to what they have unleashed in previous elections especially 2014.
BNP lawmaker Rumin Farhana in a video had claimed that the BNP and the Jamaat "as brothers from the womb of the same mother".
Key leaders of both parties have assured their supporters at the grassroots through public statements that their alliance is very much intact.
Plans to unleash violence on massive scale with a view to dismiss the 12th parliamentary elections:
Bangladesh intelligence has reported that the Opposition has been trying to whip up violence because it has decided not to contest the parliament polls due next year. The BNP's method of resorting to political violence emerges from a deep rooted political culture of intolerance, antagonism, revenge and arrogance.
Pakistan's infamous spy agency ISI always tries its best to facilitate the return of pro-Pak BNP and radical Jamaat-e-Islami to power through selection of candidates and channelling of funds through its Dubai-based agents in the recently concluded parliamentary elections in Bangladesh.
BNP's acting chief Tarique Rahman, son of former Bangladesh PM Khaleda Zia (BNP) who is leading a fugitive life in London, was the key conduit in the ISI strategy.
He was convicted for masterminding the plot to kill PM Sheikh Hasina in a massive grenade attack on an Awami League rally on August 21 2004, when his mother Begum Khaleda Zia was prime minister. In a speech addressing party leaders, he reiterated calls for violence to grab power, echoing the tones of Jamaat leaders.
The BNP faces a serious crisis ofleadership with many senior leaders in the country feel uneasy with Tarique's endeavour for monopolisticcontrol of the party, by remote control from London. So, it is expected the BNPand its radical Islamist allies will aim for massive violence to bring down thegovernment rather than fight elections.