Bangladesh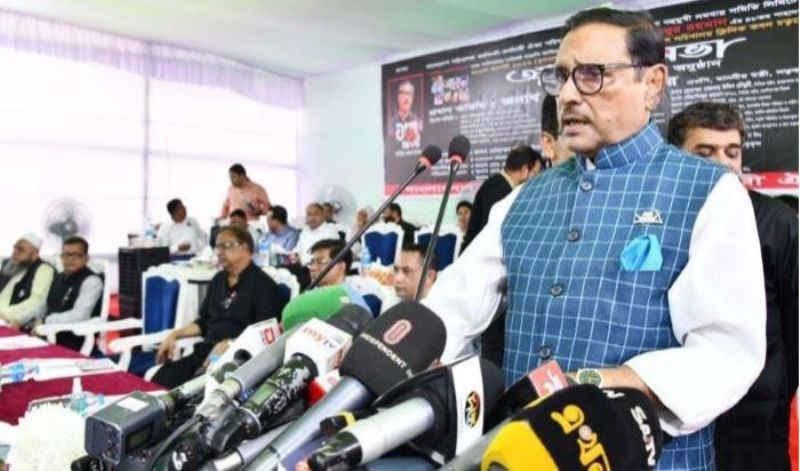 Collected
BNP leaders' statements about missing and abduction are untrue: Obaidul Quader
Own Correspondent, Dhaka, 31 August 2023: Awami League General Secretary and Minister of Road Transport and Bridges Obaidul Quader has claimed the statements made by BNP leaders on disappearances and abductions as untrue, false and fabricated. In a statement on Thursday, he condemned and protested such untruths and lies of the BNP leaders and said that the fabricated statements that the BNP leaders have been giving for a long time about the disappearance are devoid of reality and baseless. They are constantly lying about disappearances and murders in hopes of gaining mercy from foreign friends and representatives.
He said, "An attempt is being made to blame the government for the disappearances and murders that are taking place as a result of the infighting and conflict of BNP. After the disappearance of Chittagong BNP leader Jamal Uddin, the government was blamed. But later it was seen that Jamal Uddin was part of his own party in the internal conflict of BNP. Missing by activists, which was reported in the media. Similarly, after the disappearance of BNP leader Salahuddin Ahmed, attempts were made to pin the blame on the government. It was later found that he was hiding in India."
"Even on the disappearance of BNP leader Ilyas Ali, a senior leader of the party said in his speech that Ilyas Ali was disappeared by BNP people, which was later circulated and published on social media," Quader said.
Obaidul Quader said, "The BNP is making false statements about the disappearances and blaming the government for political gain in the international arena. However, the story behind the drama of their disappearances is not unknown to the countrymen today."
In the statement, he further said, "Ziaur Rahman, the founder of BNP unconstitutionally and illegally grabbed state power in this country through murder-queue-conspiracy. It was Ziaur Rahman who started the politics of disappearance in this country. During his rule, the then General Secretary of Dhaka Metropolitan Chhatra League, Mahfuz Babu, was disappeared and killed due to his political ideology. His body was not even found by his family members. Moulvi Syed, leader of Chittagong Jubo League, was brutally killed. Zia killed hundreds of freedom fighter officers and thousands of soldiers of the army and air force on charges of so-called rebellion to assert his illegal power. Even the bodies of many of those army officers and soldiers. Not found. Their family members still don't know where they are buried."