Bangladesh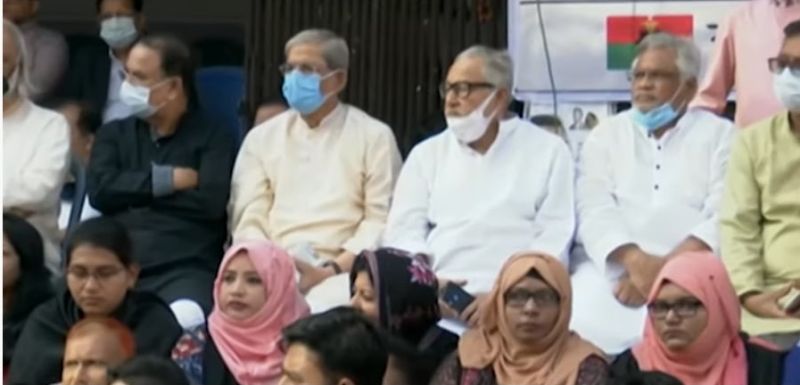 Screengrab from YouTube
BNP stages hunger strike demanding Khaleda Zia's treatment abroad
Dhaka, November 20: Demanding that the Awami League government allow Khaleda Zia to go abroad for advanced treatment, the BNP started a seven-hour hunger strike program in Dhaka on Saturday morning.
According to reports, hundreds of leaders and party activists gathered in front of their Naya Paltan central office at 9:00 am and started the strike.
It was formally inaugurated by Party Secretary General Mirza Fakhrul Islam Alamgir, who urged everyone to maintain law and discipline while observing the fast till 4:00 pm.
Mirza Fakhrul had announced the country-wide program at a press conference at the BNP chairperson's Gulshan office on Thursday.
Speaking about the BNP chief, he said, "Khaleda Zia is fighting a battle of life and death. She is the most beloved leader of the people of Bangladesh. It is inhumane that she will not be given a chance to receive treatment abroad."
Mirza Fakhrul also accused the government of plotting to end Khaleda Zia's life by blocking her treatment abroad.
Sounding a warning, the Party Secretary said the BNP will come up with more action programs after the hunger strike.
He also urged other democratic political parties, including the 20-party alliance partners, to express solidarity with their party by joining the hunger strike. "We urge them to come to our central office. Let us strengthen the movement so that our leader gets the scope to get treatment abroad. From there, we will announce more programs."
Meanwhile, former Prime Minister Khaleda Zia, 76, was readmitted to Evercare Hospital on November 13, six days after she had returned home from the facility.
According to the BNP chief's physicians, she is suffering from rheumatoid arthritis, diabetes, ophthalmological, dental, critical cardiac and kidney complications. Doctors have said that her blood sugar is out of control while haemoglobin level in her blood has dropped.
Khaleda's younger brother Shamim Iskander has submitted an application to the Home Ministry on November 11, urging the government to allow her to go abroad for better treatment.