Bangladesh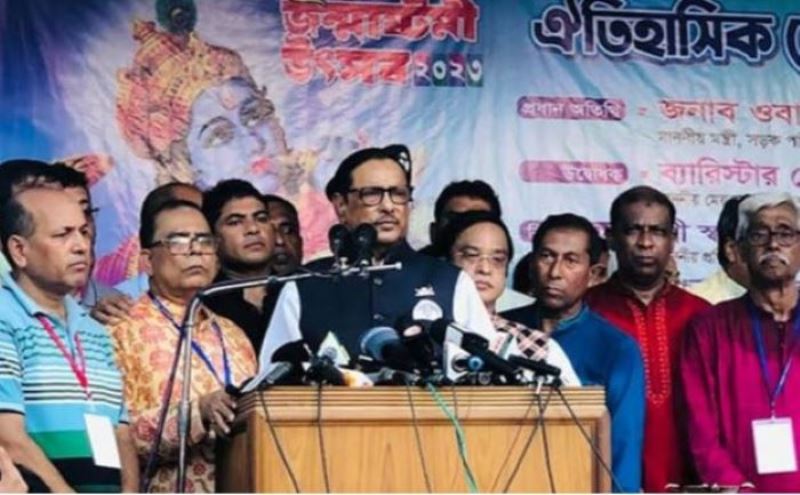 Photo: Collected
BNP wants to play evil game by issuing Dr. Yunus: Obaidul Quader
Dhaka, Sept 7: General Secretary of Awami League and Minister of Road Transport and Bridges Obaidul Quader has commented that BNP wants to play an evil game by issuing Dr. Mohammad Yunus after failing in all the agitations.
He said, "National Parliament elections are ahead. Evil forces are active ahead of the election. Last time they took Dr. Kamal Hossain with them and carried out the rampage. Now they want to play evil game by issuing Dr. Yunus. They want to destabilize the country again like One-Eleven. Their hope will not be fulfilled."
Obaidul Quader said these in the speech of the chief guest at the short rally organized on the occasion of Central Janmashtami festival at Palashi intersection of the capital on Wednesday afternoon.
He said, "The time is not very good. Demons are flourishing here. The number of evil has increased here. Creation must be observed. There is a threat of unrest here. We have to be careful to maintain peace as advised by Shri Krishna."
General Secretary of Awami League said that in the last 14 and a half years, it has been proved that there is no one better for people of Sanatan religion in politics than Prime Minister Sheikh Hasina as a ruler. During the Awami League, the brothers and sisters of the Hindu community were safe.
Calling on everyone to be careful during Durga Puja, the Road Transport Minister said, if any incident happens ahead of the national elections in Bangladesh, the evil forces may create a rift in our relationship with Hindus or with India. So we have to be more careful.
He said, so that no evil force can harm your house, I will call everyone to stand by you and provide security. Home security, temple security, mandap security. Our law and order forces are alert to the Prime Minister's orders. Our people also need to be careful.