Bangladesh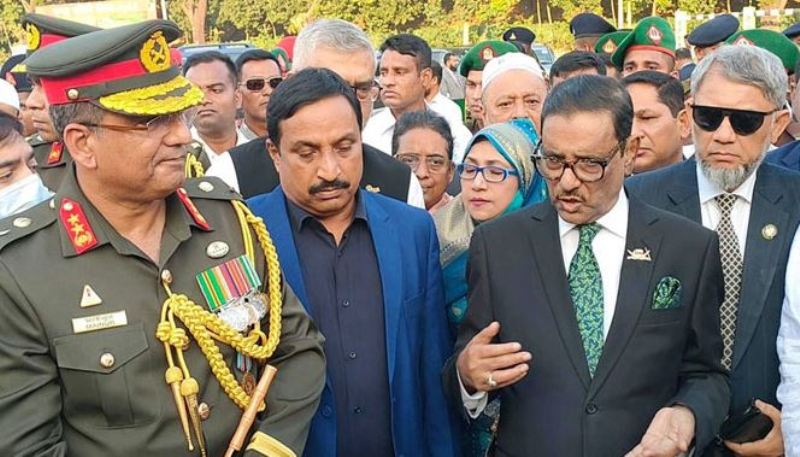 Collected
Brahmanbaria incident orchestrated by BNP: Obaidul Quader
Dhaka, November 22: General Secretary of Awami League and Minister of Road Transport and Bridges Obaidul Quader has commented that the incident of death of Chhatra Dal leader in Brahmanbaria's Bancharampur was orchestrated by BNP. He said, the incident of Bancharampur was arranged, fabricated by BNP, it is not true in reality.
Bridges Minister said this to reporters while attending the Armed Forces Day ceremony at Comilla Cantonment on Monday (November 21) afternoon.
Obaidul Quader said that BNP is holding rallies by hiring people. Compare their rally in Sylhet with our rally in Dhaka's Uttara, the rest is in the election. He also said that without a leader like Sheikh Hasina, there is no development in this country, this is a proven fact today. The people will vote for the Sheikh Hasina government in the next election.
Obaidul Quader said, we will hold elections. We are there if the public wants it, if they don't want it, we are not. Prime Minister Sheikh Hasina's statement - There is no such thing as staying in power forever, we know that power is not permanent.
He said, BNP needs power now. They are desperate to regain the lost Peacock throne.
At that time GOC Major General Md. Mainur Rahman, Comilla Area Commander of Army 33 Infantry Division, Member of Parliament Freedom Fighter Advocate Abul Hashem Khan, Raji Mohammad Fakhrul, Nasimul Alam Nazrul, Dr. Pran Gopal Dutt, Nizam Uddin Hazari, HM Ibrahim, Anjum Sultana, Aroma Dutta, Umme Fatema Najma Begum Shiuli, Farida Alam Saki and others were present.
Incidentally, a Chhatra Dal leader named Nayan Mia (22) was shot dead in a clash between BNP leaders and activists with the police while distributing leaflets of the Comilla divisional mass meeting in Bancharampur of Brahmanbaria last Saturday (November 19) afternoon.
BNP claims - Nayan died in police firing. Nayan was the vice president of Sonarampur Union Chhatra Dal of Upazila.