Bangladesh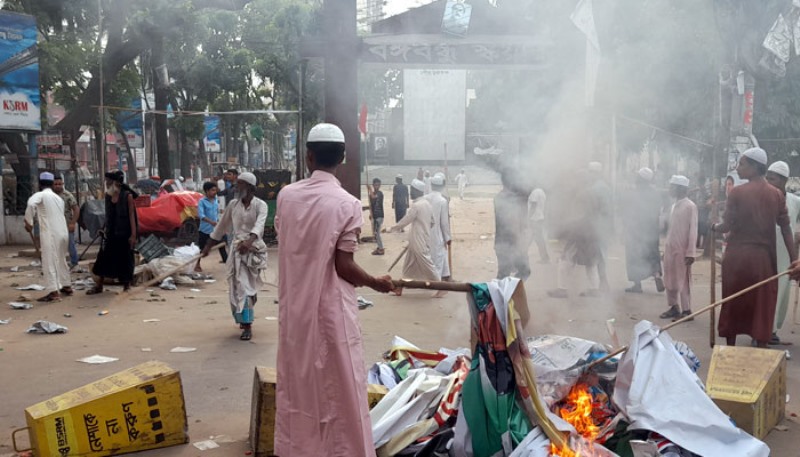 Collected
Brahmanbaria violence aimed at taking Bangladesh backwards
Dhaka, May 1: Violence has been carried out in Brahmanbaria to take Bangladesh backwards. Md. Habibur Rahman, Deputy Inspector General (DIG) of the Criminal Investigation Department (CID), made the remarks in response to a question from reporters after visiting the Sur Samrat the Alauddin Music Hall in Brahmanbaria, which was damaged by the Hifazat-e-Islam violence at 10:30 am on Saturday (May 1).
The CID is investigating nine of the 55 cases of violence perpetrated by Hefazat-e-Islam activists and supporters in Brahmanbaria from March 26 to 28. Apart from this, the CID has also been given the responsibility of investigating 5 of the cases of violence against madrasa students in Brahmanbaria district headquarters in 2016.
DIG Habibur Rahman said, "It is not possible for any civilized person to behave like this. It is a completely anti-independence and anti-history and anti-tradition act. I think it is the work of such an anti-independence clique to push back Bangladesh. The planners, whether they are at the scene or not, will definitely come under the law. They will come under the law through some process."
"The district police and CID and PBI are jointly investigating the cases. We are all investigating in coordination. The cases have already been handed over to the investigating officers. They have visited the spot. We are reviewing who was involved in the incident," he said. "We are trying to identify the culprits. Many have already been identified and arrested. No case will be pending, it will be settled as soon as possible."
Earlier, DIG Habibur Rahman visited the Brahmanbaria Municipality Office, Ustad Alauddin Khan Municipal Auditorium and Sadar Upazila Land Office.
It may be mentioned that the activists and supporters of Hifazat-e-Islam staged a massive riot in Brahmanbaria from March 26 to 28 opposing the visit of Indian Prime Minister Narendra Modi to Bangladesh. They attacked, vandalized and set fire to several public and private installations. At least 11 people were killed in three days of violence. Police have arrested 398 people in 55 cases in these incidents till Saturday (May 1) morning.