Bangladesh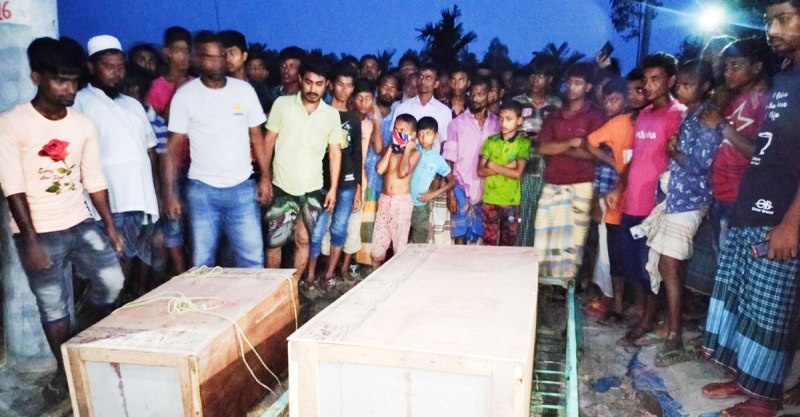 File photo
BSF returns bodies of brother-sister who drowned in river at Fulbari border
Own Correspondent, Dhaka, July 6: The bodies of a brother and sister who drowned in a river while being chased by the Indian Border Security Force (BSF) at the Fulbari border in Kurigram have been handed over to their families two days after those were recovered.
The process of handing over the bodies was completed on Tuesday (July 5) at around 8 pm through a BSF-BGB flag meeting next to Sub-Pillar 8S of International Pillar 942 at Dharmapur border in Kashipur Union.
Earlier on Sunday (July 3) at around 1:30 pm, the 192 Battalion BSF of Seoti-1 camp and Sahebganj police recovered the floating bodies of Parvina Khatun (8) and her brother Shakibul Hasan (4) from the Nilkamal River, just 50 yards inside India from the International Main Pillar 943 on the western Dharmapur border of Kashipur Union in Fulbari Upazila.
Parvina Khatun and Shakibul Hasan got detached from their mother Chamina Begum, 30, on Friday (July 1) night while they were returning to Bangladesh with their parents after swimming illegally in the Nilkamal River from India through some Indian brokers. Their father Rahij Uddin's (35) house is in the middle Sukhati village of Newashi union of Nageshwari upazila.
The children's uncle, Azizul, a member of the Newashi Union Parishad, said his brother Rahiz Uddin had moved to the Indian state of Haryana 15 years ago. He works in a brick kiln. Those two children were born and raised in that country.
Rahij Uddin said they were returning home last Friday after finishing work at the Hasihesa brickfield in Sultanpur, Haryana. As they did not have any valid documents, they entered into an agreement with the brokers to return to the country without any hindrance. The brokers had asked them to pay Rs 22,000, but they later took 40,000 rupees from them.
Last Friday night, Indian brokers Sirajul Islam, Nayan, Moyna Mia and a few others brought them to the Seuti-1 border of Sahebganj police station in Kochbihar district and kept them in a house with 20-25 other women, men and children. At 9:30 pm, the brokers cut the barbed wire fence and brought them to the banks of Nilkamal river and made them stand in no man's land. They told them to swim in the river and return to Bangladesh.
Hearing their voices, BSF members patrolling the Indian Seoti-1 camp chased them after lighting torches. Then they jumped into the river with their two children.