Bangladesh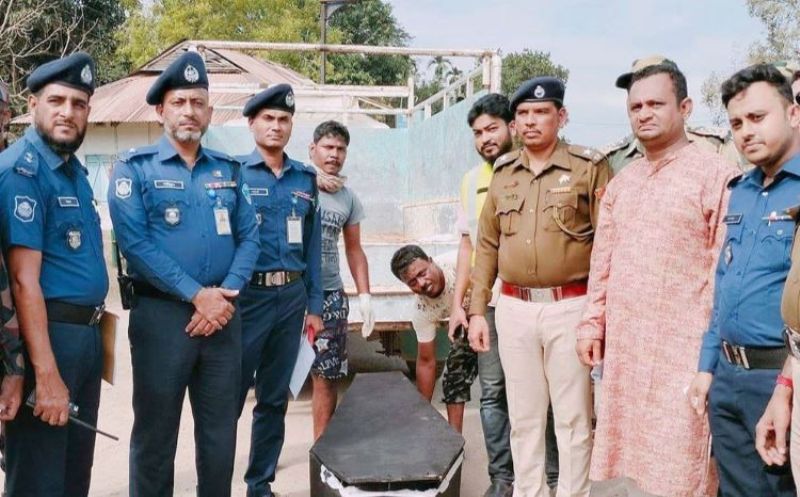 Collected
BSF returns deceased farmer's body after 16 days
Dhaka, November 30: The body of farmer Mejbah Uddin (47), lying across the Parasuram border in Feni, was returned by the Indian Border Security Force (BSF) after 16 days. Mejbah's wife has demanded compensation, alleging that he was killed without any crime.
BSF handed over Mejbah Uddin's body to BGB through Bilonia land port check post on Tuesday (November 29) afternoon. The border police of the two countries were present at the time. BGB Khejuria Company Commander JCO Subedar Omar Farooq, Parashuram Model Police OC Saiful Islam and BSF Sarseema Company Commander AC Satya Pal Singh and Bilonia Police Station OC Paritosh Das were present on behalf of Bangladesh.
Mejbah Uddin is the son of deceased Mofizur Rahman of North Guthuma village of Parshuram Upazila. On November 13, BSF caught Mejbah Uddin while he was cutting paddy in the border area of ​​Banspadua village of the upazila. Three days later, the locals saw his body lying within a hundred yards of the barbed wire of the Indian border and informed the BGB. After the BGB-BSF meeting at 3 pm on November 16, the BSF took Mejbah Uddin's body away.
During the handing over of Mejbah Uddin's body, the deceased's wife Monowara Begum, younger sister Parul Akhtar, four daughters, Parashuram Municipality Mayor Nizam Uddin Ahmed Chowdhury Sajel and local councilor Nizam Uddin Suman were present on behalf of the family.
Subedar Moniruzzaman, Company Commander of BGB's Majumdar Hat Border Outpost in Parshuram, said that the body was handed over through legal process in the presence of BGB-BSF and police.
Manoara Begum, the wife of the deceased Mezbah Uddin, complained that there is no way to know that it is her husband's body, the body has decomposed a lot. She demanded compensation from the governments of Bangladesh and India. She alleged that the BSF had abducted her husband from Bangladesh and killed him without any crime.