Bangladesh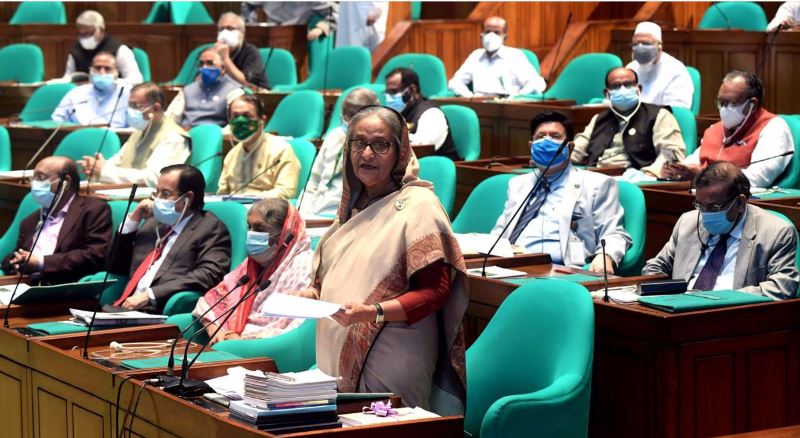 PID
Cannot put students' lives in danger: PM Hasina
Dhaka, July 3: Weighing in on the school re-opening debate, Prime Minister Sheikh Hasina said on Saturday that the government cannot put the lives of thousands of students in danger.
The Prime Minister said this in her closing speech of the 13th and budget session of the National Assembly on Saturday (July 3).
"Those whose kids do not go to school, are the most vocal about the reopening of educational institutions. The ones who have school going kids do not want that to happen," Prime Minister Hasina said.
Reacting to the speech of Leader of the Opposition Golam Mohammad (GM) Quader on opening of educational institutions, the Prime Minister said, "We have already vaccinated teachers. But according to the World Health Organization, the age at which a vaccine should be given should be followed. We have already started vaccinating children as per their advice."
"Boys and girls will learn to read. But whether we will push them to the brink of death for that education or not, I urge our honorable Deputy Leader of Parliament to consider it," the Prime Minister said.
"Schools-colleges have been shut down. But in order not to stop the education, various classes are being run through Parliament Television. We have also turned on the radio. Students are taking help of the radio, going online and studying as much as they can.
"We have been able to keep the education going. We will say, there has been a little damage. But we will open all schools after vaccinations. But when we decided to open it last time, the virus spread like wildfire all over the world and it affected our country," she added.
"You want to say it for the sake of saying it and it's okay, but do you wish to put these students's lives at stake?" she asked Quader.
"Many of our relatives study abroad. My grandson studies there. They study online. The schools were opened after the cases dropped a little, but had to be shut as soon as it went up. This is just not the scenario in Bangladesh, it's worldwide. We should all accept it," Prime Minister Hasina said.