Bangladesh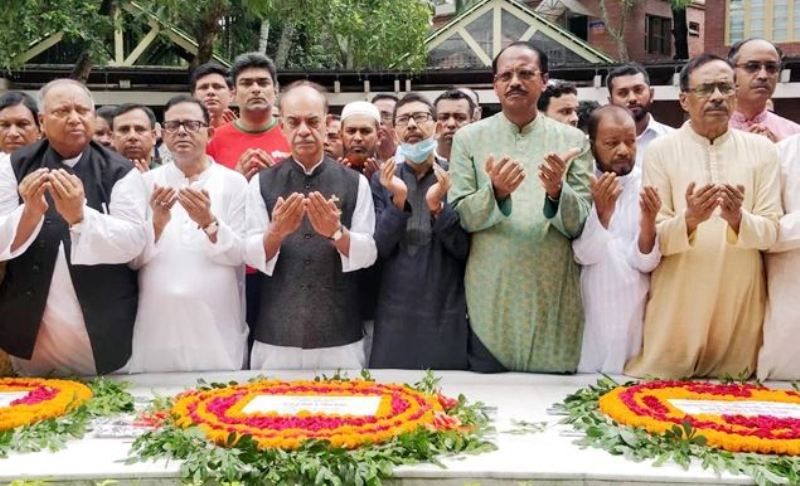 Collected
Central Awami League pays homage to Bangabandhu at the party's founding anniversary
Dhaka, June 23: On the occasion of the founding anniversary, the Central Awami League paid homage to Father of the Nation Bangabandhu Sheikh Mujibur Rahman at Tungipara in Gopalganj with flowers.
Central Awami League presidium member Muhammad Faruk Khan and MP Iqbal Hossain Apu laid wreaths at the mausoleum on Thursday (June 23) at around 11:00 am. Later, prayers and munajat were offered for the forgiveness of the father of the nation and the martyred members of his family on 15 August 1975.
Also present at the time were General Secretary of Gopalganj District Awami League Mahabub Ali Khan, Joint General Secretary SM Akkach Ali, Tungipara Upazila Awami League President Sheikh Abul Basar Khair, General Secretary Babul Sheikh, Vice-President Ilyas Hossain Sardar, and Municipal Mayor Sheikh Tozammel Haque Tutul.
After paying his respects, Central Awami League presidium member Muhammad Farooq Khan said, "Prime Minister Sheikh Hasina had to fall prey to domestic and international conspiracies while constructing the Padma Bridge. The Awami League has always worked for the people of the country. Under the leadership of Sheikh Hasina, we will move forward by dismantling domestic and foreign conspiracies."
Farooq Khan further said, "We have got a hint that some political parties are conspiring for the forthcoming elections. We are urging the common people to stay with the Awami League."