Bangladesh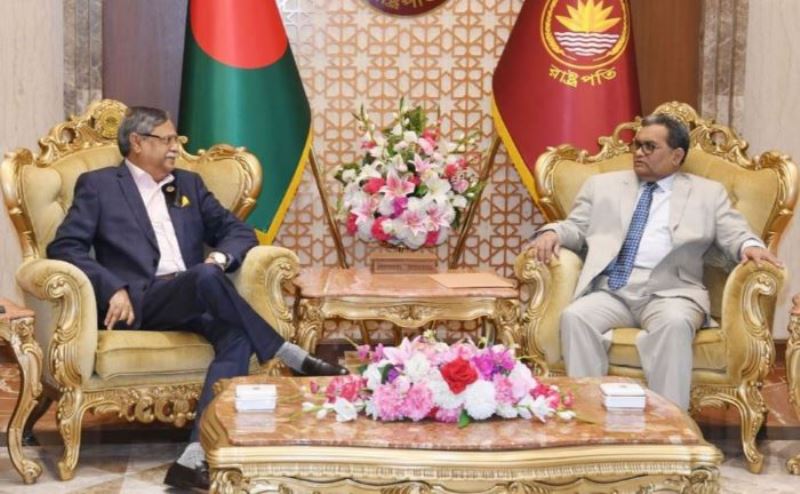 Photo: PID
Chief Justice holds courtesy meeting with President at Bangabhaban
Dhaka, August 29: Chief Justice Hasan Foez Siddique paid a courtesy call on President Md. Shahabuddin at Bangabhaban on Monday.
President's Press Secretary Md. Joynal Abedin said that during the meeting, the Chief Justice informed the President about the overall activities of the Supreme Court. The President expressed satisfaction with the overall performance of the Supreme Court and urged the Judiciary to make unremitting efforts to ensure that the people get justice within a short period of time.
Meanwhile, Bangladesh President Md. Shahabuddin will attend the East Asia Summit in the first week of September organized by ASEAN, an alliance of Southeast Asian countries. The head of state is scheduled to visit Jakarta on September 5. This will be his second foreign visit as President.
Diplomatic sources in Dhaka and Jakarta confirmed the President's attendance at the East Asia Summit in Jakarta. According to a diplomatic source in Dhaka, Indonesia is currently serving as the chair of ASEAN. The country is the host country of the 18th East Asia Summit. Indonesian President Joko Widodo has invited Bangladesh Prime Minister Sheikh Hasina to the conference to be held in Jakarta on September 7. But the head of government is not going to Jakarta due to attending the G-20 summit to be held in New Delhi soon. That is why it has been decided to attend President Shahabuddin's conference considering Dhaka's support and relations with ASEAN.
According to a source in Jakarta, the President will go to Jakarta on a two-day visit to attend the East Asia Summit. He will leave for Jakarta from Dhaka on September 5. He will make a statement as a special guest of ASEAN at the summit on September 7. In addition to Indonesian President Joko Widodo, the Ministry of Foreign Affairs and the Bangladesh Mission in Jakarta are working on the meeting of the President with the heads of state of some countries. After all the formalities, President Sahabuddin is scheduled to return to Dhaka on September 8.