Bangladesh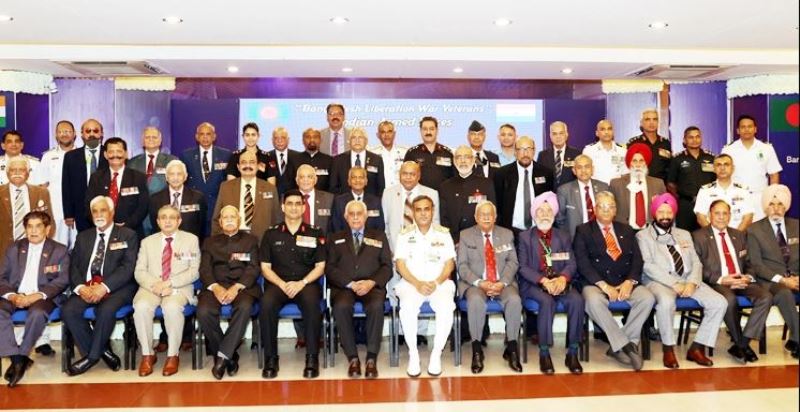 Collected
Chief of Navy meets Indian troops who assisted in the War of Liberation
Dhaka, March 29: A delegation of 30 valiant fighters of the Indian Armed Forces led by Major General Narayan Sankaran Nair (Retd.), who assisted in the great Liberation War of Bangladesh, paid a courtesy call on Chief of Naval Staff Admiral M Shaheen Iqbal at Sagarika Hall of the Naval Headquarters in Banani on Sunday (March 28).
Other PSOs and senior officials of the Naval Headquarters were present at the time.
The delegation has come to Bangladesh to take part in various events organized on the occasion of the birth centenary of Father of the Nation Bangabandhu Sheikh Mujibur Rahman and the golden jubilee of independence. As part of the visit, they had a courtesy meeting with the Chief of Naval Staff at noon. At this time the strong role of India in achieving the independence of Bangladesh was conveyed with gratitude.
A press release issued by the Inter-Services Public Relations (ISPR) said, "India has cooperated with us as the most trusted friend in achieving the great liberation struggle of the people of Bengal in 1971 in response to the call of Father of the Nation Bangabandhu Sheikh Mujibur Rahman." India's unforgettable role in making 'Operation Jackpot' a success is highlighted. "
"India also played a direct role in training and equipping naval commandos with a variety of weapons and equipment, including guerrilla training. It also mentioned India's formal recognition of Bangladesh before a final victory was achieved. It is hoped that the Bangladesh Navy will continue to work at all times. "
The Indian Armed Forces delegation, which is on a five-day state visit, is scheduled to return home on March 29.