Bangladesh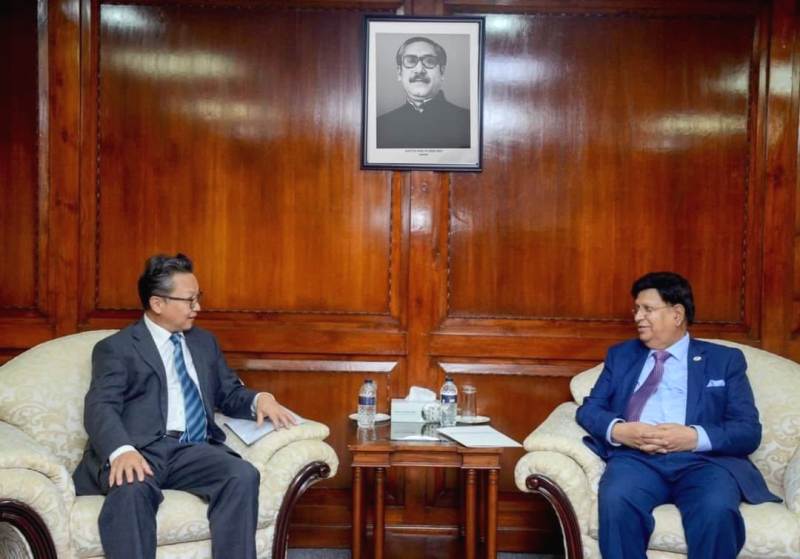 File photo/Collected
China undermines Bangladesh govt's efforts in pandemic control and development
Dhaka, June 4: Chinese Ambassador to Bangladesh Li Jiming greeted Bangladeshis on the occasion of Eid-ul-Fitr which was on May 3, 2022. Ambassador Jiming said that Bangladesh was able to successfully continue its development trend despite facing the pandemic.
While this was right, he continued and gave China credit for Bangladesh's proper handling of the coronavirus pandemic.
He said, "It makes me so inspired and I'm proud to say that China made due contributions to this great achievement of yours," thus completely negating the efforts made by the Bangladeshi government and its people for successfully controlling the pandemic.
Beijing is trying really hard to present itself as a partner for economic recovery post Covid-19 pandemic. But just as Chinese medical equipment has often been faulty, its approach to economic recovery comes with waste, fraud, and political manipulation.
Chinese-driven corruption now permeates into several layers of Bangladeshi business enterprises, even government transactions.
Despite the recent claims made by Ambassador Li Jiming, the reality of Beijing's projects in Bangladesh is very different. Last year China withdrew from financing three infrastructure projects in Bangladesh after allegations of embezzlement of funds increasing project costs emerged. These projects in the railway sector included building a mixed gauge double line from Joydebpur in Gazipur to Ishwardi in Pabna near the capital Dhaka.
In another incident, a Bangladeshi national was assaulted by a Chinese project officer. A local, Jubayer (30) had been working as a labourer on the under-construction Lebukhali Bridge project for a long time.
The Bangladeshi labourer had to be admitted to Bakerganj Upazila Health Complex following the assault. Over a small matter of not wearing a mask properly while working at the site, Chinese workers got furious at Jubayer and beat him up. The project manager assaulted Jubayer, severely injuring him in the process.
The ill treatment of workers is a major concern regarding working conditions in the construction process of coal-fired power plants as part of the Chinese megaprojects in Bangladesh.
In April 2021, a group of workers of the SS Power Plant gathered in Chittagong to peacefully protest for higher wages and reduced working hours. Police authorities intervened to quell the protest through violent means.
The Bangladeshi press recorded five deaths and a dozen injured people in the clash. Indeed, the coal plant and infrastructure implementations are causing widespread displacement of highly populated rural areas by endangering their ecosystem and resources such as water and air pollution. As a result, inhabitants of the impacted areas gathered in protests to stop the land seizing. Furthermore, the increase in the building of coal plants is failing to respect workers' rights.
China expects Bangladesh to be an important player in its South Asian BRI scheme.
Bangladesh too has expressed its willingness to be part of the BRI. But Bangladesh should take heed from China's scheme to finance and build infrastructure in Sri Lanka, which has today left the island nation in the greatest financial crises in the country's history.
The port of Hambantota, which cost $1.3 billion to build using finance from Chinese state-owned lenders, struggled for years under losses so heavy the Sri Lankan government eventually gave up bankrolling it.
Benefits of Chinese investments under its signature Belt and Road Initiative (BRI) are rarely shared equally with the host country, and unsurprisingly, China is the primary beneficiary. The risk of debt distress is rising in 23 countries with BRI funding.
China is not only exporting steel and concrete, but also corruption, opacity, and waste. Beijing pledged a new "Clean BRI" in 2019. But it is still unclear what concrete steps Beijing is prepared to take to truly eradicate corruption in its foreign dealings.
In a post pandemic situation where Bangladesh too is looking at economic recovery, it runs the risk of becoming even more dependent on Beijing, which is rife with systemic corruption, paired with a lack of accountability.
The way Chinese companies do their business has come under suspicion in other parts of the world as well as multilateral financial institutions, especially the World Bank, which blacklisted some of the Chinese companies for non-compliance of integrity compliance programme and Procurement Guidelines consistent with the principles set out in the World Bank Group Integrity Compliance Guidelines.
Chinese companies have frequently violated the laws of the land in Bangladesh causing loss to the exchequer. In December 2021, Bangladesh authorities found that a Chinese company China Road & Bridge Corporation (CRBC), a subsidiary of China Communications Construction Company (CCCC) engaged in the construction of road and bridges in Bangladesh is involved in tax evasion while importing construction material for government projects. And it is not the first time that Chinese companies have violated the laws of the land in Bangladesh causing loss to the exchequer.
Earlier in December 2020, the National Board of Revenue (NBR) launched an investigation into ZTE Bangladesh, a subsidiary of the Chinese ZTE Corporation with many business operations in different sectors of the country, on the suspicion of tax evasion.
Bangladesh carries about USD 8 billion in Chinese debt and its close military relationship, and purchase of many of its latest weapons systems from China are sources of anxiety.
Unlike the Sri Lankan experience with China, Bangladesh's ability to manage its debt is notable.
However, there exists some amount of trepidation regarding the long-term implications of these projects. There is no clarity about the details and the financial implications for Bangladesh.
Engaging with China's BRI will depend on Bangladesh doing a real cost benefit analysis carefully, taking a long-term view. Chinese projects in Bangladesh demonstrate the consequences of China's failure to engage in open and transparent conduct.
The presence of large numbers of Chinese workers in Bangladesh has caused tensions with the locals as they not only fear job insecurity but also disrespect of its religion by hurting Islamic sentiments, while keeping the farce of extending Eid wishes.