Bangladesh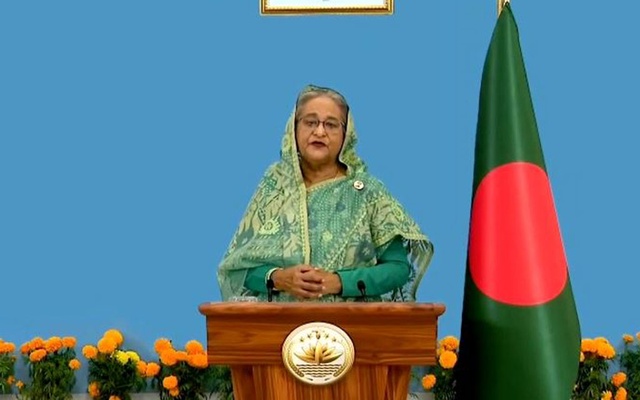 Climate Change: PM's Call to Developed Countries
Dhaka, 13 December 2020: Prime Minister Sheikh Hasina has called upon the developed countries to come forward with the desired and committed disaster mitigation measures along with climate funds to tackle the adversities of climate change.
"I urge all developed countries to come forward with the desired and committed disaster mitigation measures, including climate funding," she said.
She was speaking at a virtual conference marking the fifth anniversary of the Paris Agreement on Saturday.
The summit is co-hosted by the United Kingdom, the United Nations and France, in partnership with Chile and Italy.
UN Secretary General Antonio Guterres, British Prime Minister Boris Johnson, French President Emmanuel Macron, Chilean President Sebastian Pineran and Italian Prime Minister Giuseppe Conte opened the conference.
In an earlier speech, the Prime Minister said, "Today we are celebrating the fifth year of the historic Paris Agreement. "Unfortunately, we have not been able to reach the target set by the agreement," he said. "The reality is that the adversity of climate change is not stopping us from being inactive, nor is it rescuing us from disaster."
Noting that despite many obstacles, Bangladesh has emerged as a leader in the adaptation system, the Prime Minister said, "In this regard, I would like to remind everyone that there are limitations to adaptation."
As the Chairperson of the Climate Damage Forum, Sheikh Hasina said that they have launched the 'Midnight Survival Deadline for the Climate' initiative of the Climate Damage Forum by calling on every country to declare extended NDC by midnight on December 31, 2020.
In this context, she said that 11.5 million saplings are being planted across the country to mark the birth centenary of Father of the Nation Bangabandhu Sheikh Mujibur Rahman in Bangladesh and has also launched a program called 'Mujib Climate Prosperity Plan' to mobilize resources for a secure and sustainable future.
"To substantially enhance our NDC and adaptation ambitions, we have included a number of other key sectors in the disaster mitigation process, in addition to the existing energy, industrial and transport sectors," she said. We are also finalizing our national adaptation plan. '
"Every year, we spend ২ 2 billion on climate change-sensitive projects and ৩ 3 billion on adaptations," she said.