Bangladesh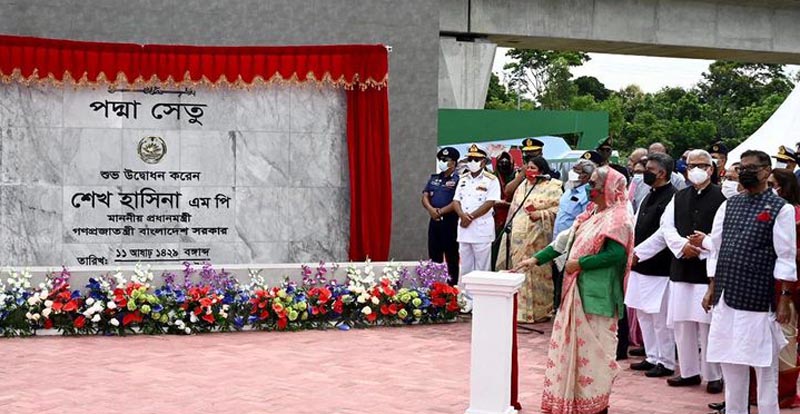 PID Bangladesh
Come and see whether Padma Setu has been created perfectly: Sheikh Hasina tells Khaleda Zia
Dhaka, June 26, 2022: Prime Minister Sheikh Hasina has invited BNP chairperson Khaleda Zia to visit the Padma Bridge.
She said, "I will tell her (Khaleda Zia), let's see if the Padma bridge has been built."
Sheikh Hasina made the remarks while addressing a public meeting organized by the Awami League at Shibchar in Madaripur on Saturday (June 25) after the inauguration of the much-desired Padma Bridge.
Sheikh Hasina said, "I came in 2001 and laid the foundation stone of this Padma Bridge. BNP-Jamaat came to power and stopped it. We came to power in 2009 and started the construction of Padma bridge."
"Then BNP leader Khaleda Zia said she will never be able to build a bridge. I will tell her (Khaleda Zia), let's see if the Padma bridge has been built," Hasina said.
The Prime Minister said, "But we were able to do it because you were by our side."
"The power of the people is great power. That's what I believed. I have come to you after losing my parents and siblings. You were also by my side," she said.
Hasina said, "I am grateful to you for attending the inauguration ceremony of Padma Bridge." Remember one thing, my father gave his life for the people of this Bangladesh, my mother gave her life, my brothers. Many have insulted me while building this Padma bridge. My family and colleagues have also been insulted. Our only goal was to build the Padma Bridge. You have given that courage, you have given strength. I am by your side. Now it has become the Padma Bridge. We will come, you will go too."
"I am ready to give up anything to change your destiny," she said.
"I am poor, I am empty, I have nothing to give. There is only love, so I went through," she said.
"Today is a special day for the people of the South," he said. A while ago, I inaugurated the Padma Bridge in the dream of the people of this region. Alhamdulillah. I have given land to those who gave land to build the Padma bridge. I have made arrangements for their livelihood," she said.
Addressing the people, Sheikh Hasina said, "You have given courage." You have given strength. I am also by your side. This country is yours, this country is ours. The father of the nation has gone with freedom. We will build this country. I will give people a better life.
"Our goal is to ensure a better life for the next generation," she said.