Bangladesh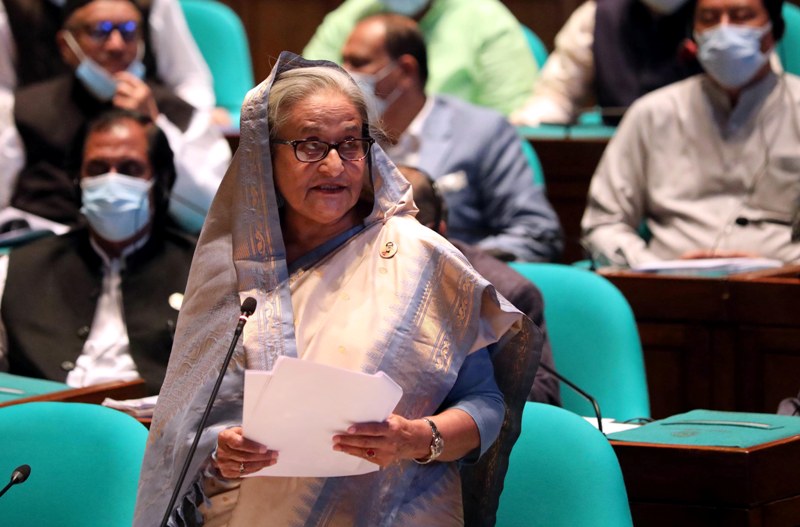 Photo: PID
Construction of Padma Bridge delayed by two years due to conspiracy: PM
Own Correspondent, Dhaka, June 30: Prime Minister Sheikh Hasina has said that the construction of Padma Bridge has been delayed for two years due to various conspiracies in the country and abroad.
She said, "As a result of the conspiracy, the construction of our bridge has been delayed for two years, but we did not give up. At last we saw the light in the darkness. The dream of Padma Bridge has come true today after overcoming all the conspiracies and obstacles at home and abroad."
The Prime Minister said these while responding to a question from ruling party MP Marina Jahan in Parliament on Wednesday (June 29). Speaker Dr. Shirin Sharmin Chowdhury presided over the question and answer session.
The Prime Minister said, "Our passion, creativity, courage, endurance and credence are involved with this bridge (Padma Bridge). We had this insistence that we would build this bridge. We finally saw the light in the darkness. Red, blue, green and golden lights are shining on the Padma River. The 42 pillars of the bridge are a reflection of a prosperous Bangladesh. Bangabandhu Sheikh Mujibur Rahman said, 'No one can supress the Bengalis.' They couldn't. We have won."
Sheikh Hasina said the initiative to build the Padma Bridge was taken after the Awami League government came to power in 1996.
"On July 4, 2001, I officially laid the foundation stone of the Padma Bridge at Mawa Point. But when the BNP-Jamaat coalition government came to power in 2001, it stopped the construction of the bridge at the Mawa end. They asked the Japanese government to conduct another survey for the Padma Bridge at the Aricha end of Manikganj. After the second survey, Japan submitted a report on the construction of the Padma Bridge, specifying the Mawa end," she said.
Mentioning that the construction of Padma Bridge had been included in the list of top priorities since she took charge in 2009, the Prime Minister said an agreement was signed with a consulting firm to prepare a detailed design of the bridge in the shortest possible time. Between April and June 2011, loan agreements were signed with the World Bank, Asian Development Bank (ADB), JICA and Islamic Development Bank (IDB) to finance the bridge project.
Mentioning that the conspiracies had begun when the tender process for the appointment of the contractor started, Sheikh Hasina said, "The World Bank, ADB, JICA and IDB suspended loan agreements alleging corruption in the recruitment process of consulting firms to oversee the construction of various packages of the project."