Bangladesh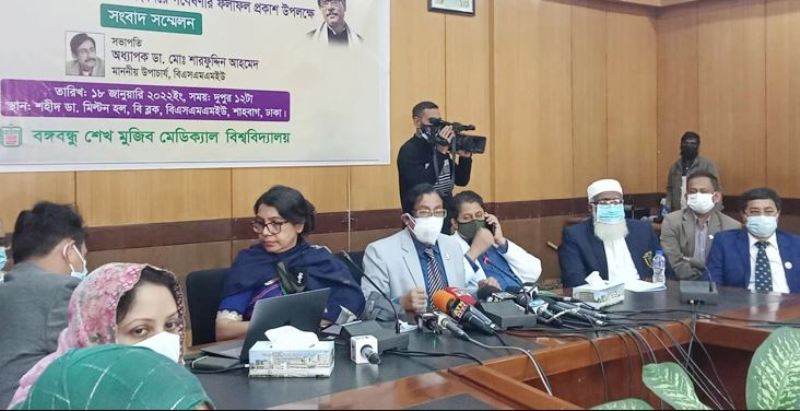 Collected
Coronavirus: About 20 percent of identified patients infected with Omicron
Dhaka, January 18: About 20 percent of the patients identified in the country are currently infected with the new type of corona, the Omicron variant. The remaining 80 percent of patients are infected with the highly contagious type of corona, Delta or other variants. This was stated by Prof. Dr. Md. Sharfuddin Ahmed, Vice Chancellor of Bangabandhu Sheikh Mujib Medical University (BSMMU) and Chief Patron (Supervisor) of Genome Sequencing Research Project.
He made the remarks at a press conference on Tuesday (January 18) at 12 noon to mark the release of the results of the genome sequencing study of Covid-19 by BSMMU's Martyr Dr. Milton Hall. Dr. Md. Sharfuddin Ahmed said that 20 percent of the samples collected from 8 December 2021 to 8 January 2022 were found to be Omicron variant and 80 percent Delta variant. The Omicron variant is expected to grow exponentially next month.
He said the current study was conducted on coronavirus patients across the country from June 29 last year to January 8 this year. Sampling has been done with the representatives of all the departments of the country. The study included all types of patients, from 9-month-olds to 90-year-olds. The highest number of patients aged 21 to 58 years. A total of 769 Covid-19 positive patients underwent corona genome sequencing through neopharyngeal swab samples through next-generation secosensing.
The study found that patients with coronary heart disease, cancer, respiratory disease, heart disease and diabetes had the highest mortality rates. In addition, 100 percent of the patients admitted with symptoms are infected with Delta variant. He said that the research shows that the omicron variant is likely to increase at a multiplier rate. We will announce the actual results this month.
The purpose of CVID-19 genome sequencing research is to uncover the character of the genome of the corona, the type of mutation and its interaction with the genome of the global Covid-19 virus, and to create a Bangladeshi Covid-19 genome database.
The research conference was attended by Dr. Laila Anjuman Banu, Chief Researcher, and other members of the research team.