Bangladesh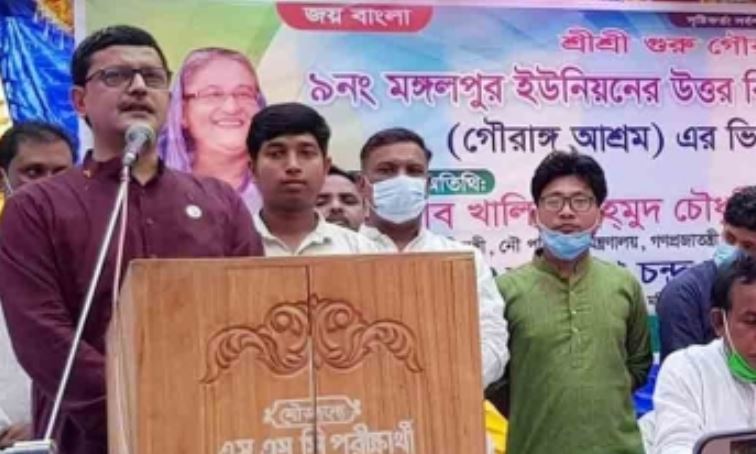 Collected
Coronavirus vaccines to come from India in October
Dhaka, September 21: One crore coronavirus vaccines are coming to Bangladesh every month from different countries, and it will also come from India in October. State Minister for Shipping Khalid Mahmud Chowdhury said this while laying the foundation stone of Sri Sri Radhakrishna Mandir (Gouranga Ashram) at Biral Mangalpur in Dinajpur on Tuesday (September 21).
The state minister said efforts have been made to snatch away the non-communal consciousness of Bangladesh in the post-75 period. Attempts have been made to divide the nation through religion. The destroyers of communal harmony have torn the country apart. They have tried to make Bangladesh a failed state. But Bangladesh has risen to the top of the world today as the Awami League under the leadership of Sheikh Hasina has maintained that non-communal spirit.
Calling on all to remain united under the leadership of Sheikh Hasina, Khalid Mahmud Chowdhury said, "Everyone is safe if Awami League is in power." People can go to religious places of worship with courage.
Criticizing the BNP, the state minister said, "They don't talk about how the people of the country will be better." They will only demand the release of Khaleda Zia who embezzled orphans' money. There is a criminal sitting on the other side of the seven seas and thirteen rivers, with whom they communicate how to occupy Bangladesh. After killing Nawab Sirajuddaula, the East India Company ruled India through Mir Jafar. Today, sitting in London, Tareq Rahman is dreaming like the East India Company. He wants to occupy the country in exchange for this massacre of anarchy. That is unlikely.
Highlighting the successful leadership of the Prime Minister in dealing with the coronavirus, he said, "When the developed countries are helpless due to the virus, Prime Minister Sheikh Hasina has made the people of this country brave. She has spoken with everyone.
He said all the mosques in the world were closed due to the coronavirus pandemic. Mosques were closed in Saudi Arabia, Pakistan. No mosque or temple was closed in Bangladesh. Hygiene rules were all in place. Bangladesh has received the vaccine among the top 30 countries in the world. Now one crore vaccines are entering Bangladesh every month. The vaccine will arrive from India next October.
Wareed Upazila Nirbahi Officer Wazed Mia, Upazila Awami League President and Municipal Mayor Sabujar Siddique Sagar and Upazila Awami League General Secretary Ramakant Roy were also present on the occasion.