Bangladesh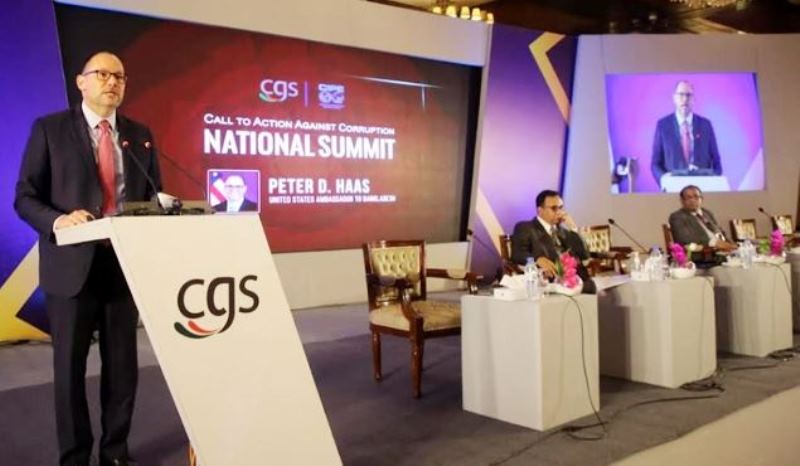 Photo: Collected
Corruption is not only a problem in Bangladesh, but also in the US: Peter Haas
Dhaka, March 22: Pointing to the prevalence of global corruption, the US Ambassador to Dhaka, Peter D Haas, said that corruption is not only a problem in Bangladesh, but it exists all over the world, including the United States. Corruption is the biggest obstacle to Bangladesh's status as a developing country.
The ambassador said this citing a report on human rights published on Monday local time in the United States. Peter Haas said "corruption is still a big problem in Bangladesh" has been mentioned in the report.
He said these things at the National Conference of Center for Governance Studies (CGS) at a hotel in the capital on Tuesday, March 21.
The Center for Governance Studies (CGS) in collaboration with the US-based Center for International Private Enterprise (CIPE) for the past two years to identify issues related to corruption in the private sector and small and medium industries titled 'Bangladesh: Supporting the Demand for Democratic Governance by Mobilizing the Private Sector Against Corruption' Managing a project.
CGS has already completed two countrywide surveys, a review report on small and medium industries, eight regional discussion meetings, one CAAC conference, and two networking events under this research project. In continuation of this, CGS organized the National Conference of the first phase of this project.
The conference was attended by SME entrepreneurs, diplomats, politicians, businessmen, civil society representatives, and journalists from different regions of the country.
At the event, US Ambassador Peter De Haas said that the Bangladesh government should improve state institutions to fight corruption. Increasing digitization and replacing cash-based transactions with online transactions can be a necessary step to prevent corruption.
He said foreign investors would prefer a less corrupt economic system for investment. If the rate of corruption in Bangladesh decreases, foreign investors will be more attracted to invest.
Peter Haas expressed the promise that the United States will help Bangladesh to prevent corruption, and through this, Bangladesh will get more FDI (Foreign Direct Investment).