Bangladesh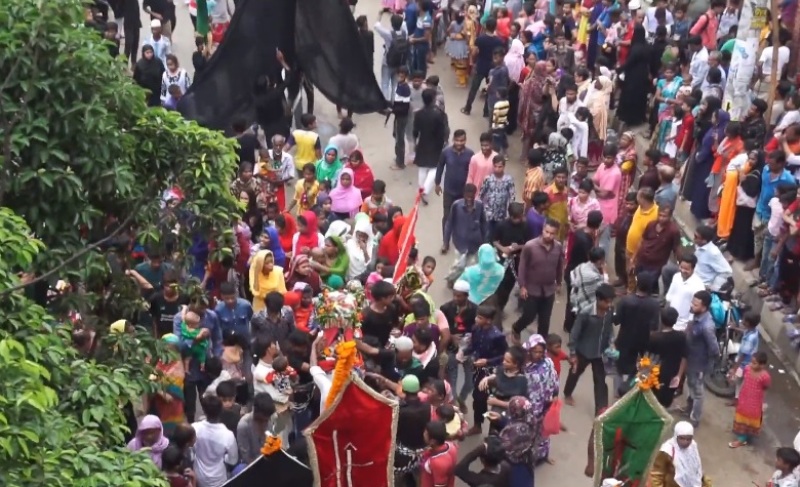 Screengrab from YouTube
Country observing Holy Ashura today
Dhaka, August 20: The country is observing the Holy Ashura today, 10th Muharram (Friday). This tragic day of Karbala is of special religious significance to Muslims. The day is celebrated in the Islamic world as a special holy day as a symbol of sacrifice and mourning. Holy Ashura is being observed in Bangladesh with due dignity and in a short program in accordance with the rules of health, due to the ongoing coronavirus pandemic.
On this day, 10 Muharram, 61 AH, Hazrat Imam Husain, the grandson of the Holy Prophet Muhammad (PBUH) and his family and followers were martyred by the Yazid forces in the desert of Karbala on the banks of the Euphrates River while fighting for truth and justice. Remembering this event, Muslims observe the day with due dignity. Their sacrifice in upholding the great ideals of Islam, the religion of peace and harmony, has been reflected in the history of humanity.
This tragic event of Karbala and the eternal message of Holy Ashura inspire all to speak out against injustice and oppression and to walk in the path of truth and beauty.
In the current coronavirus situation, a short program has been allowed on this occasion all over the country, including the capital Dhaka. On this occasion, the police department has taken special security measures in the capital.
Due to the pandemic, all kinds of Tajia processions- which is an eternal part of Muharram- has been stalled. This instruction was given in a press release of the Ministry of Religious Affairs.
According to the notification issued by the ministry on August 6, in the current context in the country, the restrictions imposed earlier on religious institutions of all religions will remain in force. Even though the Tajia processions has been stalled, all the necessary religious rituals will be observed following proper hygiene and social distance.
It is also a public holiday today. On this occasion, the national dailies will publish special articles tomorrow. Apart from this, various private and government radio-TV channels, including Bangladesh Betar and Bangladesh Television, will also broadcast special programs on the significance of this day.