Bangladesh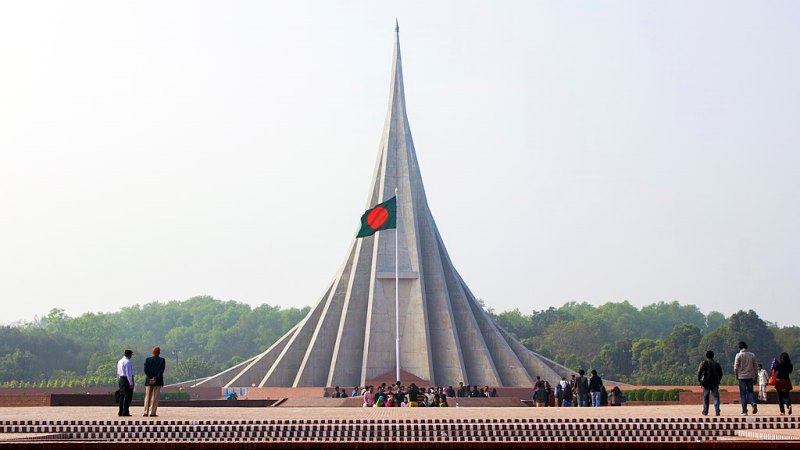 Nasir Khan Saikat/Wikipedia
Country to observe 50th anniversary of Victory Day today
Dhaka, December 16: Bangladesh will observe the great Victory Day or Bijoy Dibos today, an unforgettable glorious day of heroism in the Bengali nation. It led to the formation of an independent territory called Bangladesh on the map of the world.
Led by the Father of the Nation Bangabandhu Sheikh Mujibur Rahman in several movements- Language Movement between 1948 to 1952, Six-point demand in 1966, Mass Uprising in 1969 and bangabandhu's speech on March 7, 1971- the nation finally gained independence after innumerable lives were sacrificed and taken away by the Pakistani forces and their allies in Bangladesh (then East Pakistan).
The final victory was achieved on 16 December 1971 with the surrender of the Pak army. Today is the 50th anniversary of the victory.
On the occasion of the birth centenary of Father of the Nation Bangabandhu Sheikh Mujibur Rahman and the golden jubilee of victory, a two-day special program has been organized in the South Plaza of Jatiya Sangsad Bhaban under the theme 'Great Hero of Great Victory' from today. The National Implementation Committee has organized the celebration of Mujib Borsho (Mujib Year).
The program will start at 4:30 pm today. Prime Minister Sheikh Hasina will administer the oath of Subarna Jayanti and Mujib Borsho.
People from all walks of life will take part in the swearing-in ceremony holding the national flag with the promise of building a prosperous Bangladesh. After the swearing in, President of Bangladesh Md. Abdul Hamid will be present as the chief guest in the discussion session presided over by Prime Minister Sheikh Hasina.
The President of India Shri Ram Nath Kovind will address as the Guest of Honor. Minister for Liberation War Affairs AKM Mozammel Haque and Speaker Dr Shirin Sharmin Chowdhury will address the function and Chief Coordinator of the National Implementation Committee Dr Kamal Abdul Naser Chowdhury will deliver the welcome address.
Dr. Kamal Abdul Naser Chowdhury, Chief Coordinator of the National Implementation Committee, said that the daughter of Bangabandhu Sheikh Rehana will pay homage to the distinguished guest "Mujib Chiranton".