Bangladesh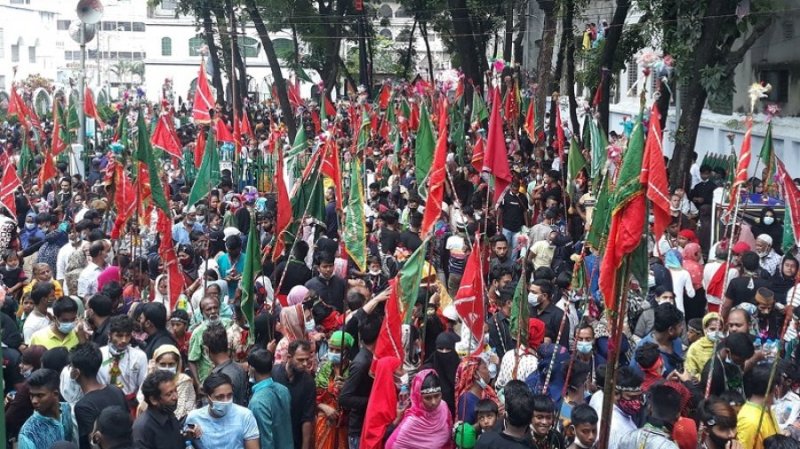 Collected
Country to observe holy Ashura tomorrow
Dhaka, August 8: Tomorrow Tuesday (10th of Muharram) is the holy Ashura. The day of Karbala, a 'mourning and heartbreaking event', has special religious significance for the Muslim community. In addition to being a symbol of sacrifice and mourning, this day is celebrated with great importance in the Muslim world as a special holy day. Ashura will be observed tomorrow Tuesday in Bangladesh with appropriate religious dignity and solemnity through various programs and following the health rules prescribed by the government.
On the occasion of Ashura, President Md Abdul Hamid and Prime Minister Sheikh Hasina gave separate messages on Monday highlighting the significance of Ashura.
On the 10th of Muharram 61 A.H., Hazrat Imam Hussain (R.A.), the son of the Holy Prophet Muhammad (S.A.W.), and his family members and followers were martyred by the forces of Yazid in the desert of Karbala on the banks of the Euphrates River while fighting for truth and justice. Remembering this poignant event, every Hijri year 10th of Muharram, the Muslim community of the world observes the mourning day with due religious dignity. Their self-sacrifice to uphold the great ideals of Islam, the religion of peace and harmony, is bright in the history of humanity.
This tragic event of Karbala and the eternal message of the holy Ashura motivates everyone to speak out against injustice and oppression and to follow the path of truth and beauty. Holy Ashura means mourning. Devout Muslims express their heart-wrenching grief through the Tazia procession. This year also all the religious rituals required for the holy Ashura will be observed following proper hygiene and social distancing. On the occasion of Ashura tomorrow, the program of Tazia procession has been taken up across the country including the capital Dhaka. However, the police administration has imposed some restrictions in the interest of peaceful atmosphere and law and order for the Tazia procession. Also, on the occasion of the day, special security measures have been taken across the country, including the capital.
Meanwhile, on the occasion of Ashura tomorrow, Tazia processions will be taken out from various places in the capital. Especially from old-Dhaka's Hosseini Dalan and Mohammadpur's Shia mosque areas, large Tazia processions will come out. To ensure the safety of these Tajiya processions, the Dhaka Metropolitan Police (DMP) has banned the participation of pike members in Tajiya processions with daggers, daggers, scissors, spears, balls, swords, sticks, etc.