Bangladesh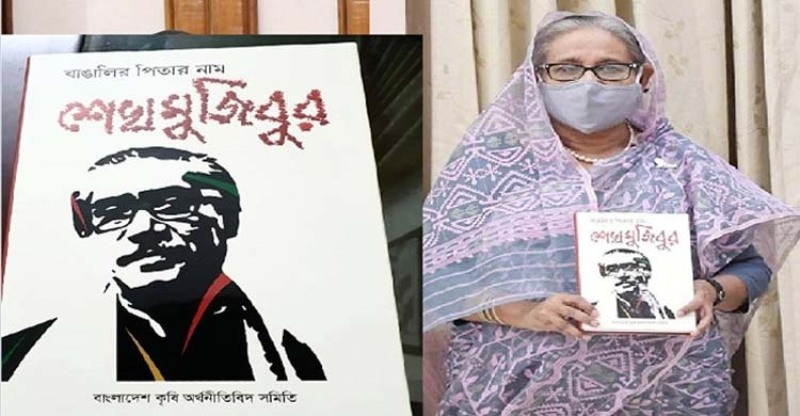 Collected
Cover of book 'Bangalir Pitar Naam Sheikh Mujibur' unveiled
On the birth centenary of Father of the Nation Bangabandhu Sheikh Mujibur Rahman, the greatest Bengali of all time, Prime Minister Sheikh Hasina has unveiled the cover of the book titled 'Bangalir Pitar Naam Sheikh Mujibur' published by Bangladesh Agricultural Economists Association. She unveiled the book at Ganobhaban on Tuesday.
Sajjadul Hasan, President of Bangladesh Agricultural Economists Association and former Senior Secretary to the Prime Minister's Office, Prof. Dr. Shamsul Alam, State Minister for Planning and Prof. Dr. Mohammad Mizanul Haque Kajal, Secretary General of the Association were present during the unveiling.
In the memorandum, Prime Minister Sheikh Hasina expressed her gratitude to the association by providing an article titled 'Some words on the rural economic situation'.
Former Finance Minister Abul Maal Abdul Muhith, Abdul Gaffar Chowdhury, the late HT Imam, Dr. Mohammad Farasuddin, the late Shamsuzzaman Khan, Selina Hossain, Ramendu Majumdar, Syed Manjurul Islam, Dr. Atiur Rahman, Nasir Uddin Yusuf, Mohammad Zamir, Lt. Colonel (Retd.) Kazi Sajjad Ali Zahir Bir Pratik, MA Sattar Mandal, President of the association Sajjadul Hasan, poet Nirmalendu Guna, Mahadev Saha; the late Habibullah Siraj; Kamal Chowdhury and many other famous writers and poets have written about Bangabandhu's colorful career in the commemorative book.
The memorandum was addressed by President Md. Abdul Hamid, Prime Minister Sheikh Hasina and Agriculture Minister Dr. Md. Abdur Razzak MP. The book is printed on 120 grams of art paper. The cover is painted by Dhrubo Ash.