Bangladesh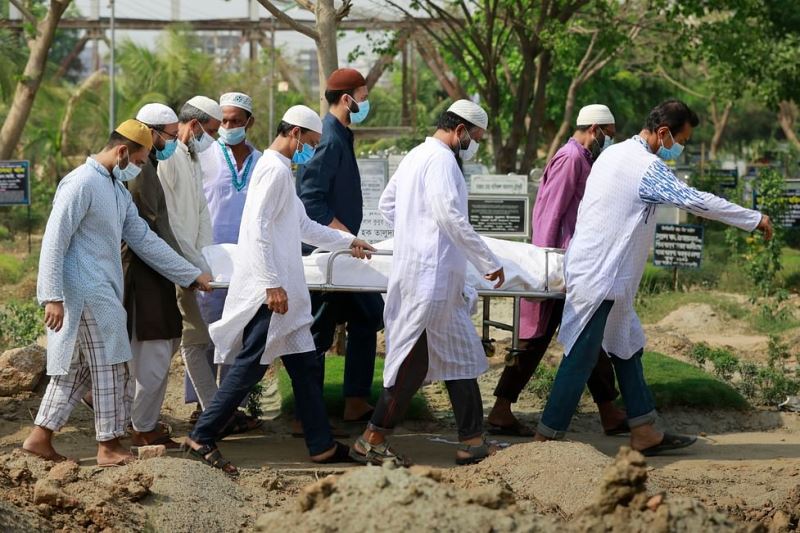 Collected
Covid-19: 245 die, 11,463 new cases recorded in 24 hours across Bangladesh
Dhaka, August 9: Another 245 people succumbed to coronavirus across Bangladesh, while 11,463 people tested Covid-19 positive in the last 24 hours, between Sunday and Monday.
With it, the national death toll rose to 22,897 and caseload to 13,65,158.
Among the recent deceased were 128 men and 117 women. One hundred and eighty-five of them died at government hospitals, 49 at private hospitals and 11 at their homes. The mortality rate in the last 24 hours was 1.68 percent.
Dhaka division registered 83 deaths, followed by Chittagong with 72 fatalities. Khulna division reported 25 deaths, Rangpur 19, Sylhet 18, Mymensingh 13, Rajshahi 10 and Barisal six deaths.
In the last 24 hours, 14,412 people recovered from the deadly disease, taking the total number of recoveries to 12,19,859. The recovery rate between Sunday and Monday was 89.36 percent.
The country also collected 46,953 Covid-19 samples and tested 47,207 samples at 707 government and private labs in the last 24 hours. bangladesh has so far tested 81,64,617 samples. The daily positivity rate was 24.28 percent, while the overall rate stands at 16.72 percent.